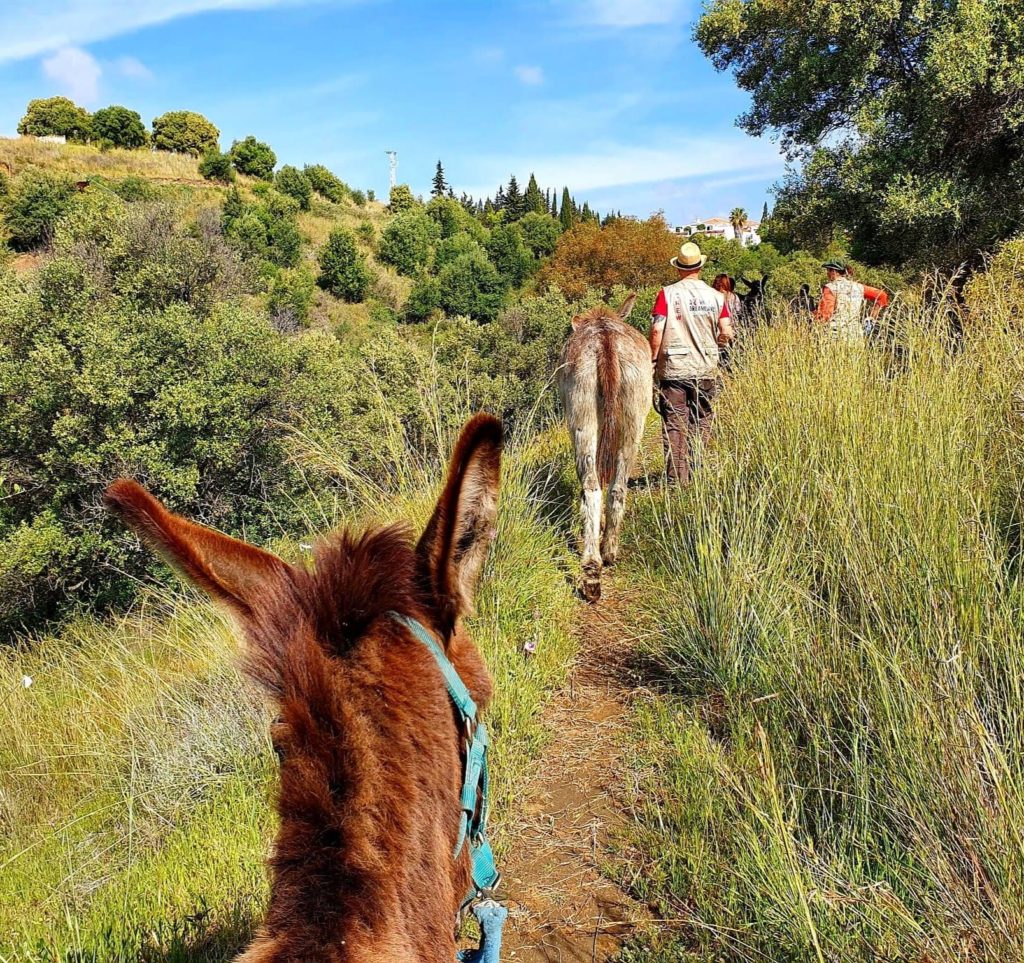 We're sure anyone who has ever visited Donkey Dreamland will agree: as soon as you walk through our small gate and down those big steps, you're hit with a sense of tranquility. While the donkeys are the main source of this incredibly calm and healing energy, the surrounding hills of La Cala de Mijas and the beautiful campo that surrounds our rescue center and sanctuary, has every bit as much to do with it.
This is exactly why our Donkey Walks have become so popular. They offer the perfect combination of quality time with our cheeky, loving donkeys, and a few hours spent breathing in the sights and sounds of our local countryside beneath the Andalusian sun. Add to that a Yoga with Seána session followed by a delicious brunch, and you've got yourself a recipe for a nourishing morning that will keep you charged with positive energy for weeks to come. All that for just €40!
Now that we've gotten January – along with its Blue Monday moods, colds and taxes – out of the way, it's time to embrace the lovely month of February with all it has to offer. A bit of romance with Valentine's Day just around the corner, and colourful carnival vibes taking over the Costa del Sol in the week to come. To ensure you won't find yourself with a lull in your social calendar, Donkey Dreamland has teamed with Seána once again, to offer a fantastic experience on Saturday, February 18th.  
The Benefits of Practicing Yoga in Nature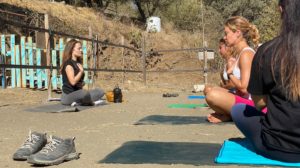 Seána, who started her own yoga journey ten years ago, is looking forward to guiding you inwards – to help you calm your monkey mind and find peace not only in your present surroundings, but throughout the rest of your day. "Yoga is meant to be practiced in nature. I believe that when we are kind to our bodies and our minds, that kindness shines through you, and to experience that and share that in nature has been proven to be extra healing," Seána assures us.
Since the late summer of 2020, Seána and trekking guide Andy Sawyer have been offering Trek n' Flow days, which take them to wonderful places such as the Charca del Canalon in Istan, through the Sierra Bermeja mountain range, or following in the footsteps of Paulo Coelho's The Alchemist, across the sandy dunes of Bolonia.
Andy, who has trekked some of the most challenging landscapes across the globe, was first introduced to the combination of hiking, mindfulness and meditation during some time abroad in Asia, and approached Seána about the idea of offering a combination of trekking and yoga flows upon his return.
Donkey Dreamland: The Perfect Setting for Meditation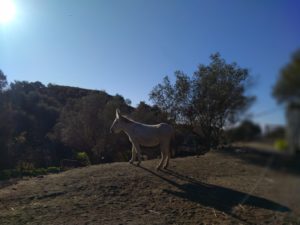 "I moved a lot of my classes outdoors because I felt that was the direction things were going after everyone was stuck indoors for so long during lockdown," Seána explains.
Trek n' Flow felt like the perfect addition to her offerings. "Something happens to our minds and bodies when we ground ourselves in nature; even just being barefoot on the bare earth heals your body and sends all kinds of good signals to your brain and body. It's just meant to be!"
Last autumn saw the first Donkey Walk and Yoga with Séana event, and the feedback from participants was amazing. "Apart from being a lovely setting, looking into the kind eyes of these donkeys during our practice was the exact energy we needed! We have so much to learn from animals when it comes to mindfulness, being present in the moment and letting go of our ego. They are magical creatures and we are so lucky we get to share these moments with them."
Treat Yourself to a Mindful Morning in the La Cala de Mijas Hills!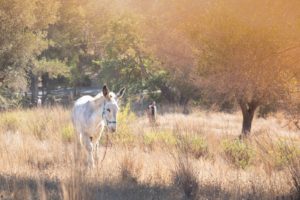 Don't miss out on this wonderful opportunity to spend your day in the best company with our donkeys, our volunteers and your yoga guide, Seána. You'll get to recharge on cuddles from our fuzzy-nosed friends, the calming campo scenery, a series of carefully curated asanas and a brunch with a view over the sanctuary and its surroundings.
Reserve your place now – you know this is the kind of self-care your mind and body have been craving after a full-on start to the year. Best of all, this investment into your own wellbeing doubles as an investment into the donkey's well-being, with all donations going straight back into Donkey Dreamland. It really is a win-win for all!