become a patron of donkey dreamland
Although Donkey Dreamland receives no Government or Local Authority funding and relies upon generosity of visitors and supporters, the plan has always been to offer events and activities which allow people to participate in donkey related experiences which turn provide the funding which is so vital to keep the sanctuary running. We want to keep doing this, so that we can generate as much of the required monthly income through providing enjoyable experiences. One such experience is ….
Walk with The Donkeys and Share Their Love
Join Donkey Dreamland rescue centre in their daily activities taking care of the rescued donkeys.
Guests will arrive at the sanctuary where their host will introduce themselves and tell some of the story of Donkey Dreamland's formation and speak about the experiences of some of the donkeys. You will also have the opportunity to experience the life of the volunteers, looking after the donkeys. This will include feeding, cleaning their stables and paddocks, grooming, applying cures.
Once the basics of donkey handling have been explained, you will take a walk with the donkeys, enjoying the company of these amazing creatures as well as experiencing the amazing countryside surrounding the sanctuary. There will also be a traditional Andalucian brunch of local organic virgin olive oil on fresh bread with tomato and a selection of cheeses, plus orange juice or mimosas. Surrounded by beautiful wildlife and olive trees, you will find it hard to believe that you are just 5 minutes drive from the beach, except that for the most part you will have an enticing view of the sea, when you are not gazing into the loving eyes of the donkeys.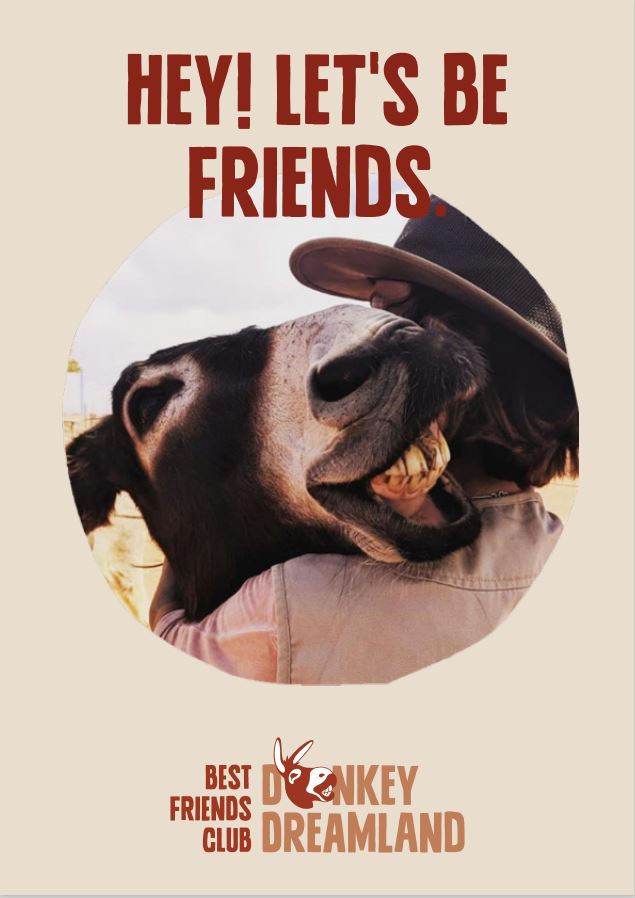 Become a Friend of Donkey Dreamland
However, we are often asked if there are other ways of helping with the santuary finances on a more regular basis. In the vast majority of  "western" countries, there is only a need for rescue sanctuaries in situations where the owners have become too old and frail to take care of their dokeys or perhaps serious illness or financial distress has caused a massive change in circumstances. For example, in the UK, there are a number of donkey sanctuaries, but few rescue centres. There isn't the need and that allows the charities to focus their rescue work in other less "aware" countries, and they are able to do this due to the amazing support and generosity of many supporters. One such donkey charity has annual income in excess of £37 million (yes, you have read that correctly!) but unfortunately their sanctuary in Spain is closed to new rescues.
For as long as we have sufficient funds, we will never turn away a donkey that is in urgent need of help, but sometimes, in order to do that, we need to plead for financial assistance through one-off fundraising campaigns (for example the recent case of Olivia). Were we able to build a sustainable monthly income of just €5,000 we would be able to focus on the donkeys and spend less time fundraising.
The donkey walks are amazing and generate good income – and during the coming weeks we will be adding Donkey Walks in the evenings, with a picnic instead of the brunch. We're sure they will be popular too. But there is a limit to how many we can do, so ultimately the income potential is capped. Can you help by either becoming a Best Friend, a Patron, or by sponsoring a donkey?
rescue, recuperate rehome - it's what we do!
Signup to our blog
Get updates sent direct
Subscribe to our blog below and never miss news and events at Donkey Dreamland