Lucky - (well, he's now an honary donkey)
You may recall that when we first took Lucky the horse, he was almost totally blind. At best he could make out blurred shadows in one eye. However, after weeks of a healthy diet and loads of love and attention, there is no doubting that his sight has improved.
Whenever someone walks down to his paddock, no matter how silently we approach, he immediately walks straight towards us, looking directly at us. 
It is so heart warming and another justification (as if any were needed) for Amaya's decision to take a horse in to the Donkey Sanctuary. He may never be rehomed, (although we live in hope that a true horse lover may take him on) but at least his remaining days, however long or short that may be, will be more enjoyable and full of love.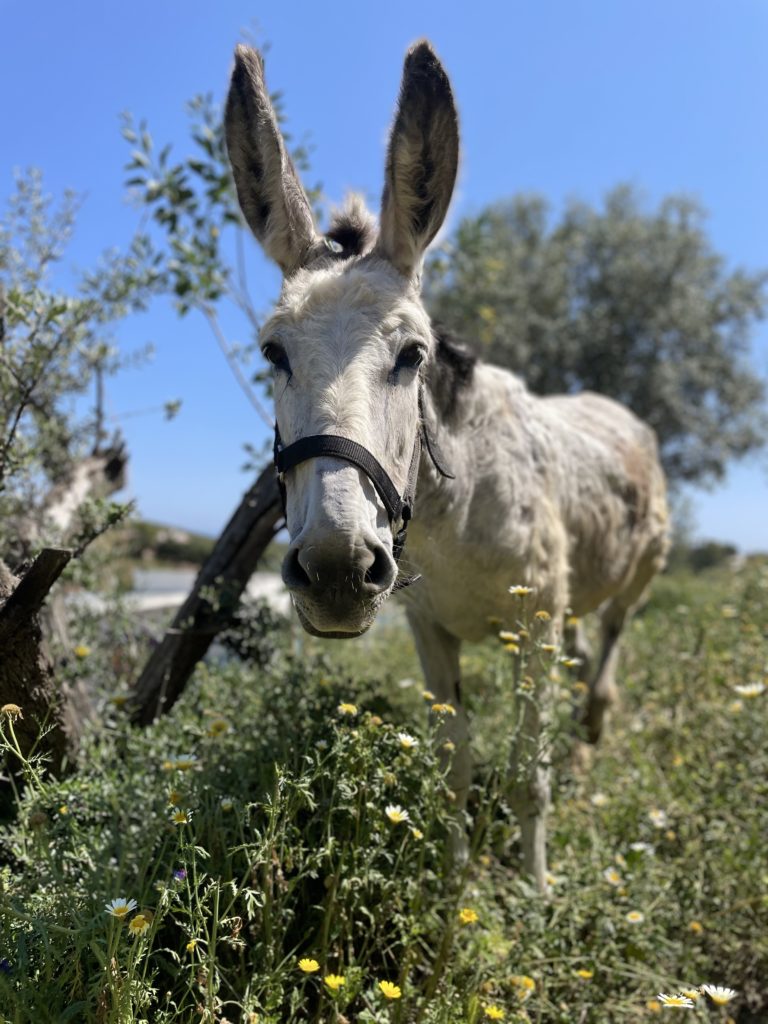 To each and every one of you who contributed to Olivia's fundrasing campaign: THANK YOU. She is a different donkey from the poor beat up girl that first arrived at the sanctuary. It would have been so easy to decide that she couldn't be saved and put her out of her misery, but with your amazing support we have again been taught to never give up. Just NEVER say NEVER.
She has the freedom of the sanctuary (except when she over indulges and has to be locked in her stable for her own protection) and the fact that she chooses to go up and down the steep rugged tracks demonstrates that although her walking will never be perfect, she is much improved and with only limited pain. Yes, after over doing it, she will have a lie down for a rest and then be very stiff when she gets up again, but she is happy and content.
Her character has come through and shows what an amazingly loveable donkey Olivia is. She is not afraid to let us know what SHE wants and for those of you who follow us on Facebook will know, she is not averse to escaping to our terrace and helping herself to oranges and bananas – and smashing a few bowls up whilst she is doing so!
We haven't quite reached our initial target with the fundraising and there's always pressure on the finances when any of the donkeys need regular medication as she does, but no-one said running a donkey sanctuary would be easy. If you can help fund the sanctuary running costs there are a number of ways listed below and as always we will be forever grateful, as will Olivia all the Donkey Tribe. Obviously Olivia will never be able to be rehomed due to her unique situation, but she is now very much part of our donket tribe and that is all down to your support. Thank you for giving here that chance. 
You may recall that Carlos came to our attention due to a lovely lady from Germany named Marianne, who was staying near Velez Malaga for a few weeks. Although he had been kept in atrocious conditions, it was due to ignorance rather than intentional neglect and abuse – as it demonstrated by his fantastic character.
Lucero was a similar story, in that he was taken from his Mother at just one month old, to be a "pet". He had no time to learn anything from his Mum – especially that he was actually a donkey, not a dog or a child's plaything!
He came to Donkey Dreamland on a temporary basis to interact with other donkeys and learn "donkey stuff". He and Carlos have bonded in such a way that they will not be separated. They are quite simply BEST FRIENDS. So when it is time for Lucero to go back to his owners, Carlos will be going too. We will miss them both, not just because they are both amazing and loveable donkeys, but because they have been the ones to go out to the hotel kids camps! The children simply adore them and they are so well behave despite often having to put up with a bunch of over excited kids!
But that's in the future still. Despite his size, Lucero is six months old and he still has much to learn, so we he will be at the sanctuary for a while longer, so there is still time to come and visit them both at the sanctuary. You can't deny that they are both simply ADORABLE. 
Who knows, Lucero may soon be ready to come on a donkey walk with visitors. Wouldn't that be something special?
As you may be aware, Donkey Dreamland receives no government funding and relies totally on visitors and supporters to meet the monthly running costs. If you would like to help support the rescued donkeys, there are a number of ways you could assist:
Signup to our blog
Get updates sent direct
Subscribe to our blog below and never miss news and events at Donkey Dreamland