sUNDAY 27TH NOVEMBER: CHRISTMAS MARKET
SUNDAY 4TH DECEMBER: Donkey Walk, Yoga & Meditation with SEANA, plus brunch
from 10.00 hrs to 14.00 hrs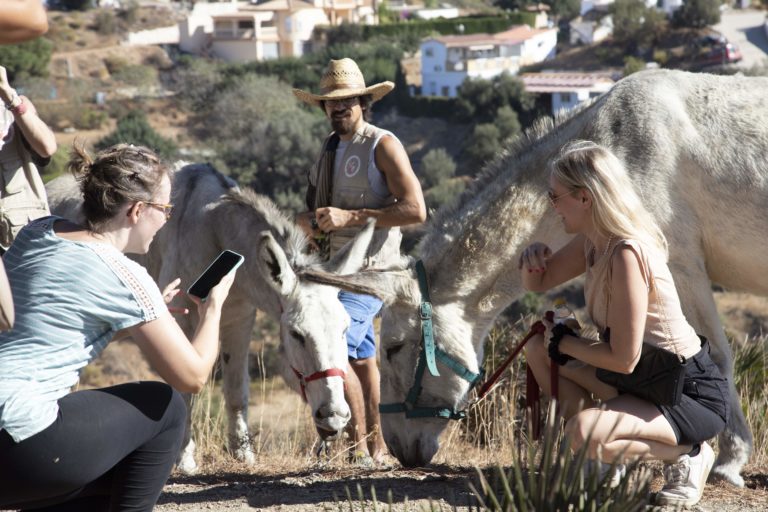 After an amazing first Donkey Walk and Yoga event with Seana on Sunday 6th November we're doing it again on Sunday 4th December. So join Seana for a Donkey Walk with a difference. Tickets cost just €40 for an four hour experience with Seana and our beautiful rescued donkeys:
Start with a tour of the Sanctuary and an introduction to the Rescued Donkeys and then take some of them for a walk in the countryside surrounding Donkey Dreamland. 
Afterwards, surrounded by the donkeys, enjoy a relaxing Yoga and Meditation experience with Seana, follwed by an amazing Adalusian Brunch of fresh bread, locally produced organic virgin olive oil, tomatoes, cheese and a wide selection of fresh fruit, accompanied by fresh orange juice or mimosas.
Numbers are limited, so book early to avoid disappointed. Tickets cost just €40 with proceeds contributing towards the running costs of the Rescue Centre and Sanctuary. Be physically energised, mentally calmed, emotionally connected with the donkeys and boost your mood, whilst helping these beautiful donkeys.
previous events and activities at donkey dreamland:
OKTOBERFEST - 16TH OCTOBER 2022 FROM 11.00 HRS TO 18.00 HRS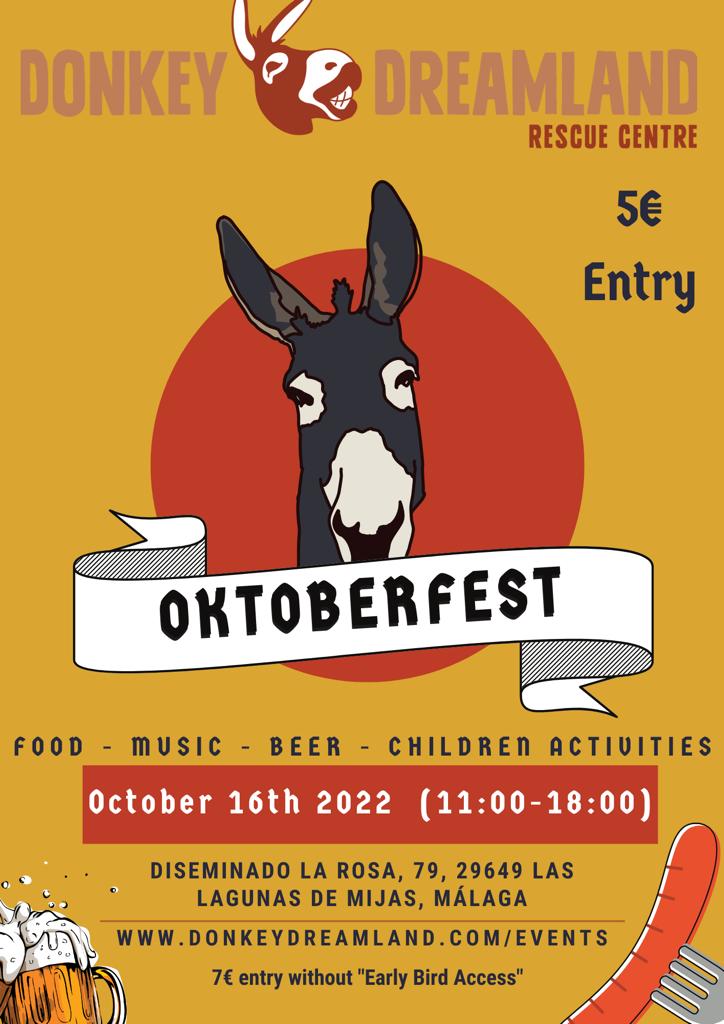 Donkey Dreamland's take on Oktoberfest – something for the Adults, but OF COURSE children are welcome and there are lots of activities to keep them occupied and entertained!
Oktoberfest, is an annual festival in Munich, Germany, held over a two-week period and ending on the first Sunday in October. The festival originated on October 12, 1810, in celebration of the marriage of the crown prince of Bavaria, who later became King Louis I, to Princess Therese von Sachsen-Hildburghausen.
Join us at Donkey Dreamland for a ONE DAY version, from 11.00 hrs to 18.00 hrs. Beers at just €2.50, with a choice of other drinks available, and enjoy the company of the Donkeys, along with Live Music, and lots of Children's activities, including Face Painting, Donkey Interactions.
Donkey Dreamland is both a Donkey Rescue Centre and a Sanctuary. By supporting our events, your help provide valuable financial support for the upkeep and wellbeing of the donkeys.
Come along and share their love – and enjoy yourself too. We promise you will have an amazing experience. 
previous events at donkey dreamland.......
Sunday 25th September from 14.00hrs - afternoon tea
a celebration of the life of her majesty queen elizabeth ii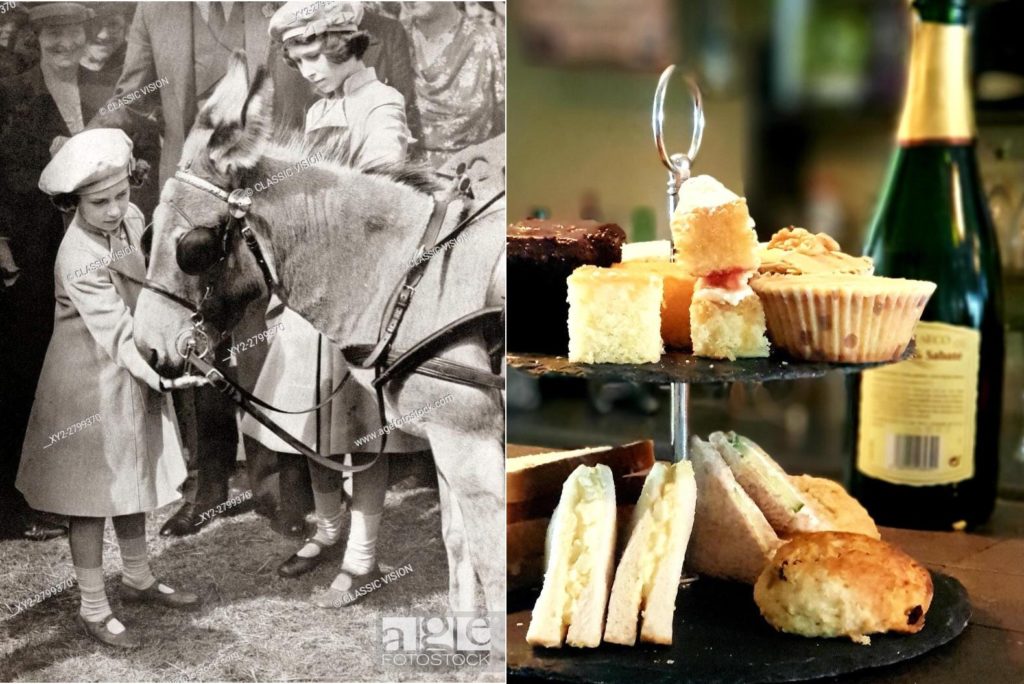 Join us at Donkey Dreamland for Afternoon Tea to celebrate the life of Her Majesty Queen Elizabeth II who worked tirelessly to champion so many causes and was a true animal lover. For over 70 years, she was a dependable voice and staunch advocate of human rights, good governance and equality across the Commonwealth and beyond.
Celebrate her life with the Donkeys at Donkey Dreamland and enjoy a traditional afternoon tea (with an adult twist of Cava instead of tea if preferred) and interact with our adorable four legged tribe! Plus enjoy a hosted tour of the Sanctuary and an introduction to the rescued donkeys and wander at your leisure, with volunteers on hand to guide you. An amazing selection of homemade scones, sandwiches and cakes, plus tea and/or cava. What a great way to celebrate a contribution of over 70 years of public service by Her Majesty.
A donation of €17 per person, €10 for children aged 12 or under with youngsters aged 3 or less free. Visits start from 14.00 hrs with "sittings" staggered so that the volunteers can make sure everyone is served in good time. If everyone were to sit down for tea at the same time, we might struggle a bit! So come any time after 14.00 hrs, but book your time for sitting down to enjoy delicious cakes, scones, tea and cava!
We have sittings at half hour intervals, so there is bound to be a time to suit. Depending upon which time you prefer, your tour of the sanctuary will either be before or after your afternoon tea.
two wheels for donkeys - sunday 19th june 18.30 - 23.00
Join us for another fun packed event at Donkey Dreamland on Sunday 19th March from 18.30 to 23.00.
Live music from a selection of local musicians, plus a fantastic selection of food provided by Muchies Smokehouse of Fuengirola.  The event we did with Muchies last Summer was a roaring success and we look forward to another fun packed evening.
Tours of the sancturay and interaction with the donkeys included. Come and have an evening of great music, amazing food and dance under the stars, with the donkeys as your audience!
A variety of food to suit all tastes will be on offer, to include: Pita bread with salad, pulled pork/homemade vegan mess and marinated red onions. Nachos with home made Guacamole, salsa, chili cheese and Texas bean and cilantro dip. Plus Coleslaw and Vegetable salad. With a homemade Country Punch to help wash it down.
Whenever you visit the Donkey Dreamland sanctuary or a Donkey Dreamland Forever Home you will invariably see happy donkeys. The same applies when we post on Facebook, Instagram or our blog. However the reality is that virtually EVERY donkey that Donkey Dreamland has helped has suffered abuse and or neglect. By attending our events you are helping us to give these rescued donkeys the care and attention they need and deserve (and helping us to find them Forever Homes) plus helping to fund more rescues. Thank you for your support.
Music will be provided by a selection of acts, including: Constanza & Simon Coles:
"This newly created duo revolves around Canadian vocalist Constanza Giacomelli and Kent-born pianoman/keyboardist Simon Coles in a wonderfully crafted repertoire that binds Soul and Blues/Folk from the all-time greats such as Winehouse, Dylan and Muddy Waters. Both musicians joined forces this summer after having played together in numerous occasions and will finally present their very own project at Donkey Dreamland."
Plus well the known Wayne Ward will also be joining us… Wayne will beam you back through the years on a musical roller coaster from the fifties right through to the nineties – hard hitting vocals and guitar.
we Celebrated Summer with the donkeys - 28th may
At Donkey Dreamland on Saturday 28th May we celebrated the arrival of Summer and raised funds for Donkey Dreamland. By all accounts, a great time is had by all. There was an art workshop for kids and adults, plus a Mandala Workshop for adults, along with tours of the sanctuary and a lots of interaction with the donkeys. It was be a fantastic way to spend a few hours in the hills behind La Cala, supporting the donkeys and generally having an joyous and relaxing time.
Whenever you visit the Donkey Dreamland sanctuary or a Donkey Dreamland Forever Home you will invariably see happy donkeys. The same applies when we post on Facebook, Instagram or our blog. However the reality is that virtually EVERY donkey that Donkey Dreamland has helped has suffered abuse and or neglect. By attending our events you are helping us to give these rescued donkeys the care and attention they need and deserve (and helping us to find them Forever Homes) plus helping to fund more rescues. Thank you for your support.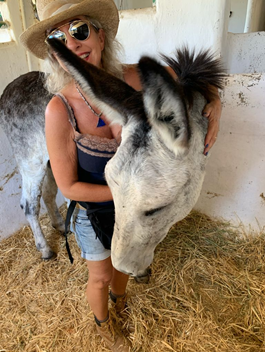 Animal Communicator Courses
Helle Espensen – a certified BodyTalk practitioner and non-verbal communicator, a donkey whisperer, is also Donkey Dreamland's Honorary Vice-President. Helle grew up in Denmark and moved to Spain in her early 20's working in international management and media. In 2010, being at the top of her game in professional communication and observational skills – and feeling quite content and pleased with her life, she was not expecting to have her entire belief system, lifestyle and personal vision deeply challenged by an incredible insight into quantum theory, while hiking on a donkey trail in Mallorca. She stepped straight out of her corporate heels and into soul-nourishing boots, devoting herself fully to energy medicine, consciousness work and non-verbal communication. Since obtaining her certification in 2012 Helle has run a clinic in Southern Spain, where she treats humans and animals from all over the world. Selling her company enabled her to dig even deeper into the Animal Kingdom, and when Amaya opened Donkey Dreamland was one of her very first visitors. Since then she has been part of the team of volunteers, focusing mainly on non-verbal communication with the donkeys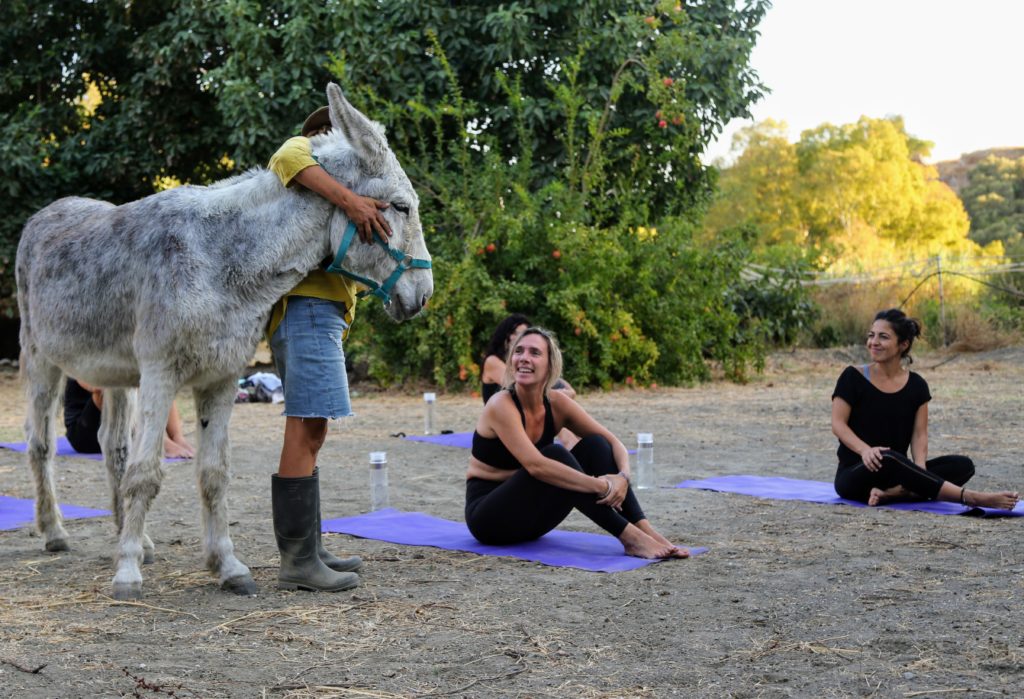 Yoga with Caroline
Caroline Makwana inherited her love for animals from her father who constantly rescued dogs with the excuse that they followed him home. As a result, she always dreamed of establishing her own dog Sanctuary but between life and work never found the moment. After a traumatic period, a friend introduced her to "Bikram Yoga" and she was quickly hooked as it took her mind off all the negative things, so she trained to become an instructor. Caroline met Amaya and Donkey Dreamland through Facebook and that same day visited and fell in love with the Sanctuary and the work Amaya and her team do. She is delighted to do her class of Bikram Yoga without the heat of a room, but with the kindness of the beautiful surrounding them.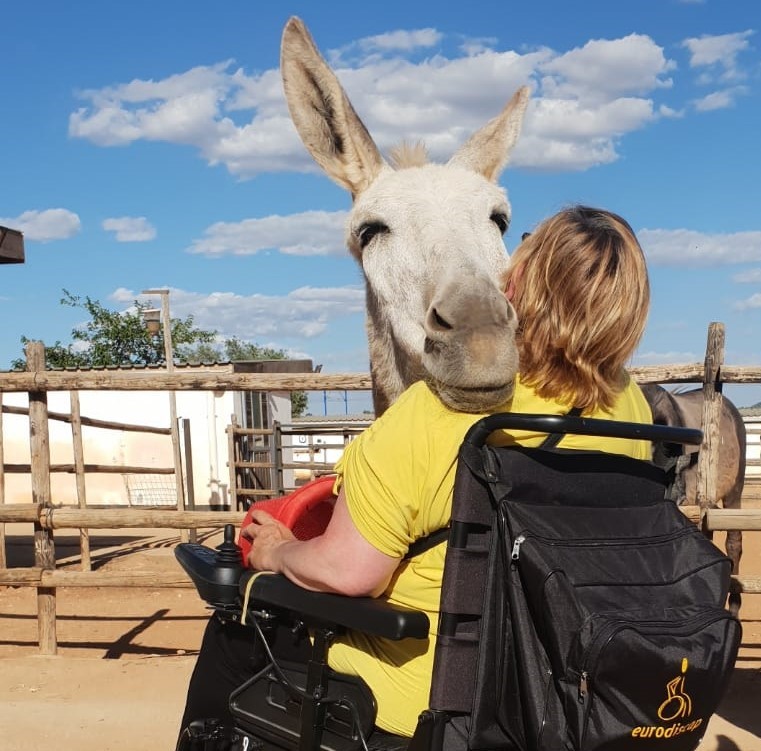 Donkey Assisted Therapy
Verónica Sánchez is a psychologist specialising in Equine Assisted Therapy and Nature and Forest Therapy. She fell in love with donkeys 15 years ago., during a trip in Ethiopia.
That trip changed her life. It was then that she decided to make a tribute to donkeys and spread the word about this marvellous and widely mistreated animal. Since then she has dedicated her life to donkeys. She started a small donkey charity in Madrid to get people, donkeys and nature together and a few years later she joined the biggest donkey organization in the world, The Donkey Sanctuary, as Country Manager in Spain. For 8 years she has been rescuing and helping thousands of donkeys in Spain, Portugal, Morocco, Greece and Palestine, and learning so much about their behaviour, history, needs.
"I am very happy to be part of Donkey Dreamland and developing the project of Donkey Assisted Therapy, where we work to improve human and donkey's well-being based on therapeutic interactions that benefit both parts."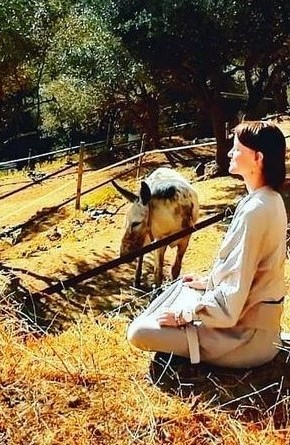 Recharge with Simona
Simona's dad is acupuncturist, healer and osteopath, so she was lucky to learn from him when very young. She vividly remembers when she was aged 14 he gave her a tiny book called "Creative Visualization". She was already into meditation and learned how to use visualization to program her mind. Simona studied osteopathy under the famous Russian osteopath Dr Chikurov and also studied Medicine and Nutrition. In 2016 she studied Pranayama Yoga from Himalayan master Swami Samarpan.
Also in Asia she learned Qigong with the incredible teacher Jani Makinen (Mantak Chía school). After moving to Spain she started to work on a project she called "Recharge": Qigong, breathing, aromatherapy, self-massage, to give treatments (Chinese cupping, massage, reflexology, acupressure, etc. and to organize Healing Tour.
Simona says she was lucky to find a magical land of peace to practice and share her knowledge at Donkey Dreamland. In a little group you move, breath, meditate and refill your energy resources…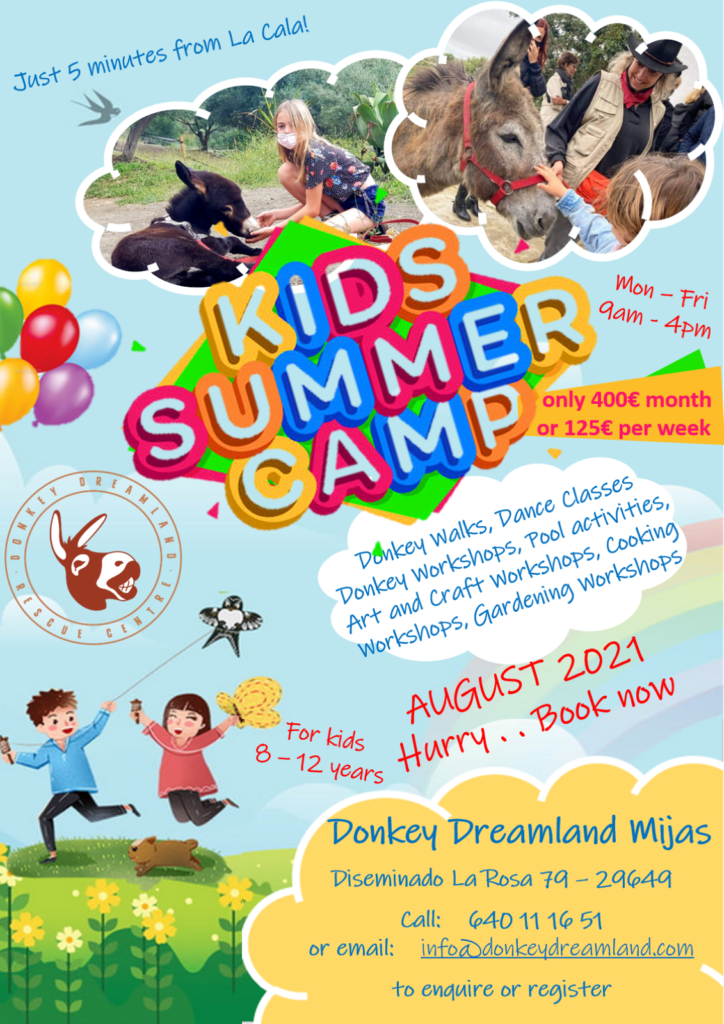 Kids Camps
During the school holidays – particularly the long Summer holiday, parents are often looking at ways of keeping their children interested and occupied. One of the best ways to keep them occupied is to get them outside and enjoying a activities they will love. Better still if they are able to learn new skills which they could use throughout their whole lives. The holidays are for relaxing, but also make a great time to learn something. Children get far more out of a break if they use it to discover a new skill or ability. Spending time at Donkey Dreamland has the advantage of taking them outside, away from their screens and your kids will make the most of the sunshine and fresh air doing multiple activities and learning all about animal husbandry whilst also having amazing fun.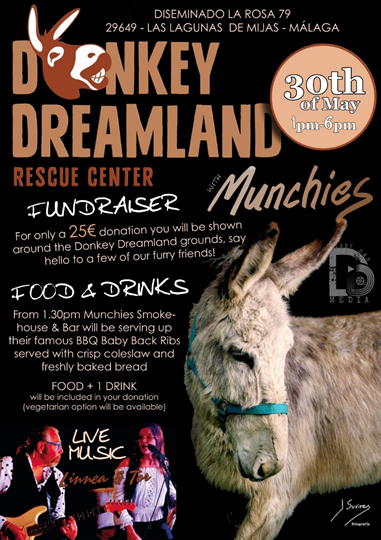 Regular Events
Most months, Donkey Dreamland offers a variety of activities in collaboration with local businesses. This could be a food and drink event or a country fayre promoting local organic food producers and their wares. Follow us on Social Media in order to be kept up-to-date with these events.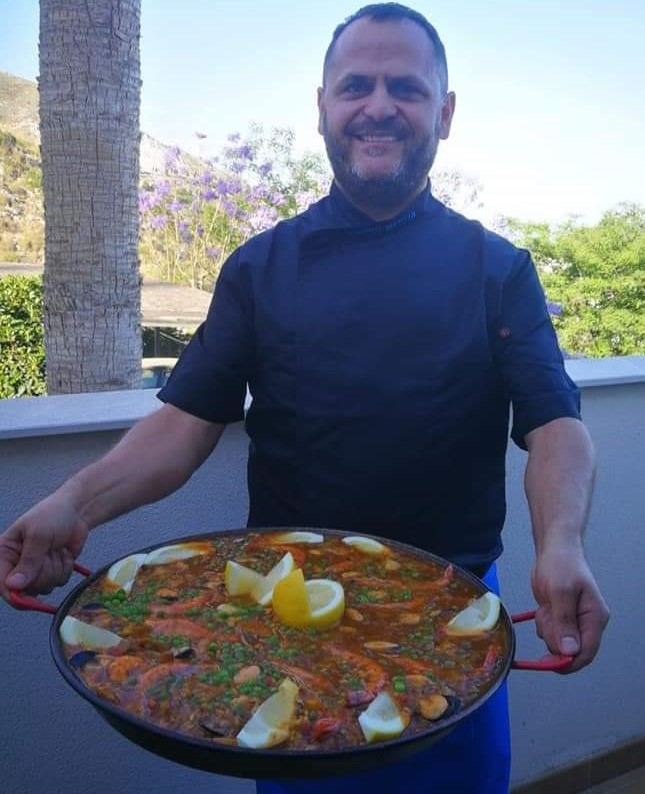 Paella with Pedro
Award Winning paella chef Pedro Martín will host you and your family and friends with an amazing paella event. Pedro is from a Malaga family with a long tradition of restaurateurs, but his love of travelling took him to New York where he worked for many years. We are delighted that he has chosen to collaborate with Donkey Dreamland.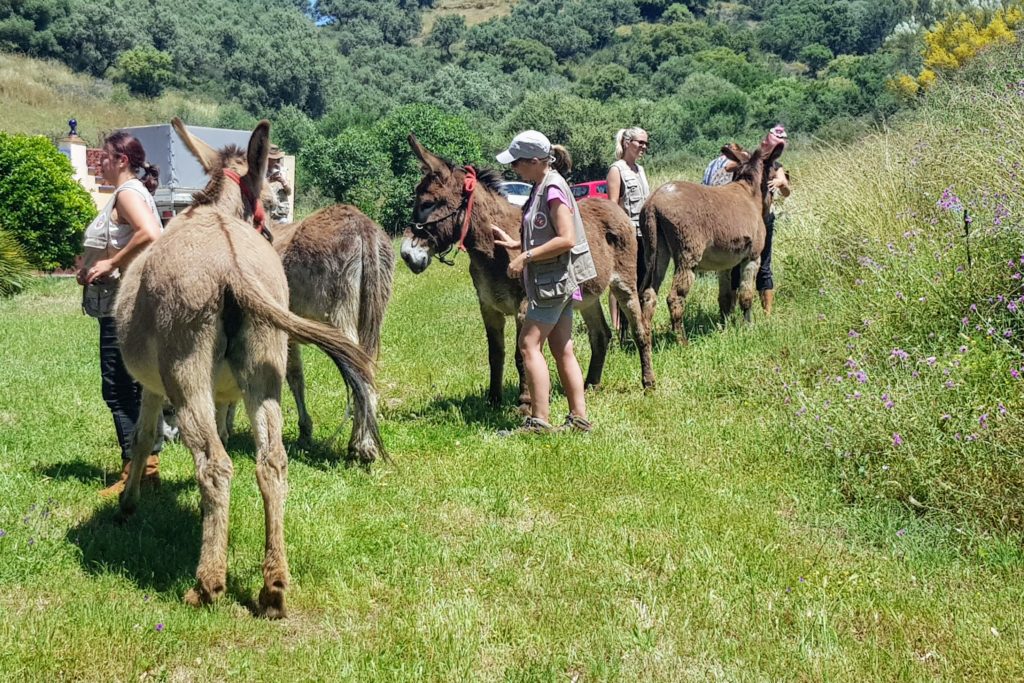 Donkey Walks with Amaya
Amaya is the founder of Donkey Dreamland and it exists due to her passion for donkeys. Amaya will take you and some donkeys around the countryside surrounding the sanctuary and explain the background of each donkey. She will also tell her story and what drove her to set up the project to rescue and rehabilitate of these beautiful creatures.