experiences - Donkey walks and sanctuary tours
At Donkey Dreamland we can offer you, your family and your friends a choice of very special and unique experiences. We offer guided tours followed by interactions with the donkeys, plus if you book the full experience you will get advice about how to handle the donkeys before setting off on a walk with the donkeys in the hills behind La Cala de Mijas. Available most Saturdays and Sundays. Click on the link below for availability.
VIP Experience: includes Brunch and Donkey Interaction – donate from €55 per person
Standard Experience: Donate from €25 per person.
Basic Entry: includes guided tour and introduction to the donkeys – donate from €10 per person
walk with the donkeys and share their love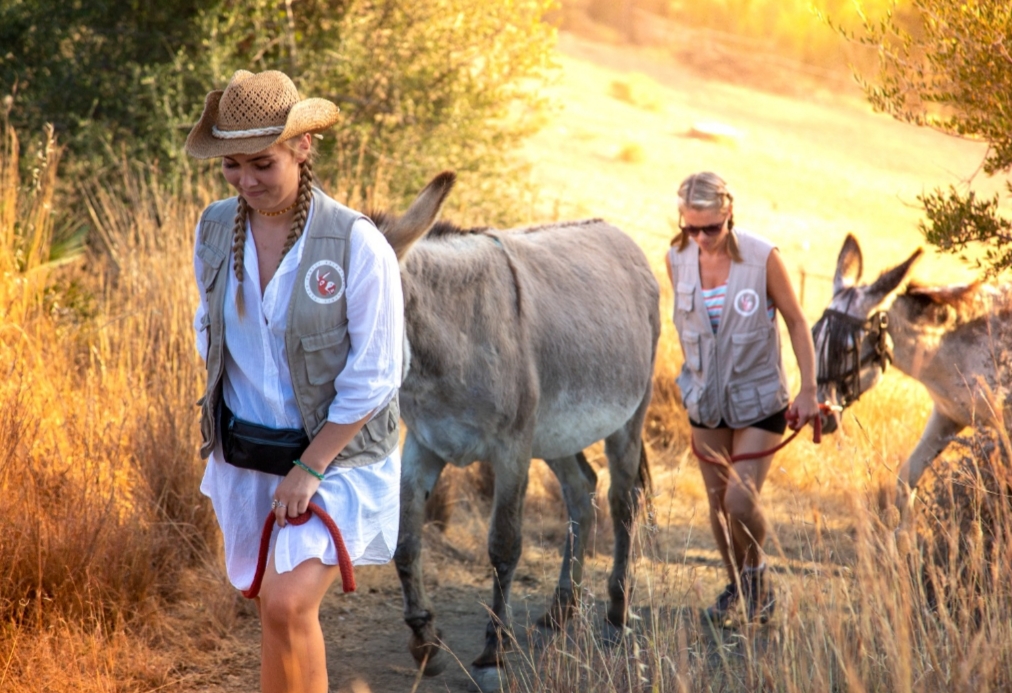 There is a Standard Experience and a VIP Experience. In both cases, join Donkey Dreamland rescue centre in their daily activities taking care of the rescued donkeys. Guests will learn about the experiences of some of the donkeys. After a tour of the sanctuary you will take a walk with the donkeys, enjoying the company of these amazing creatures as well as experiencing the beautiful countryside surrounding the sanctuary.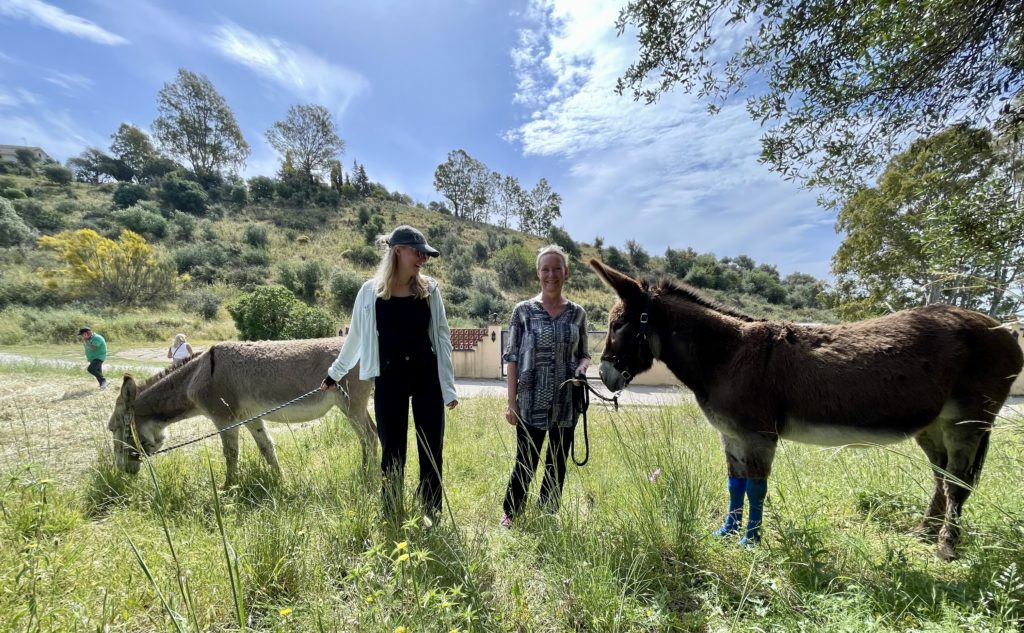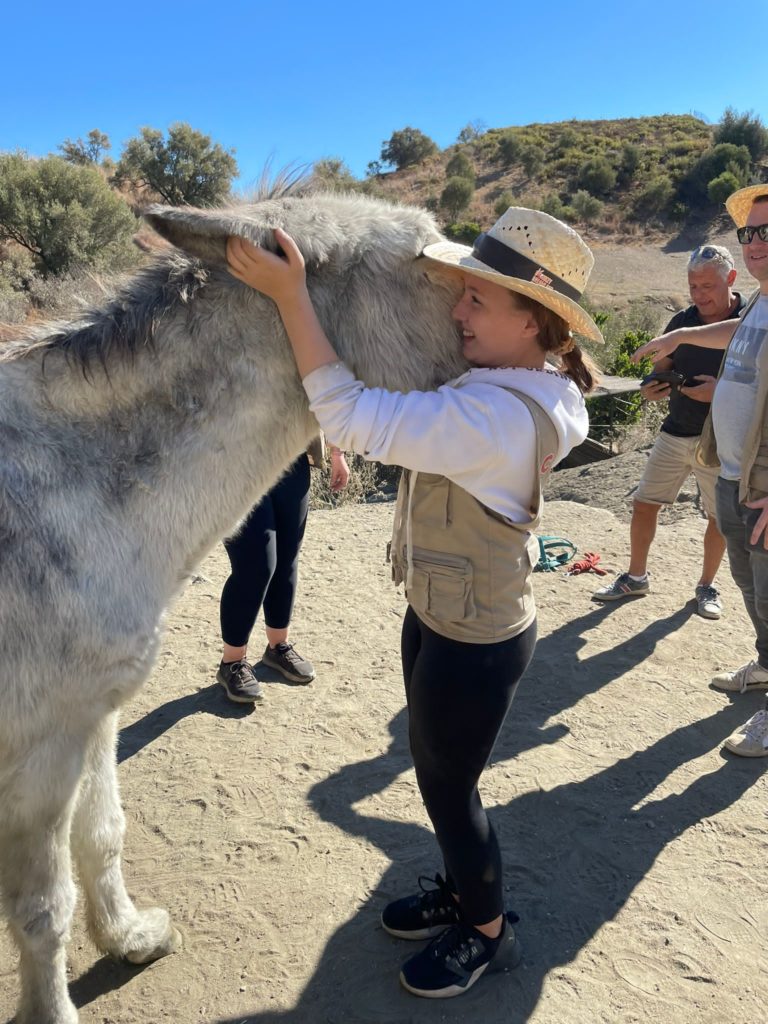 Surrounded by beautiful wildlife and olive trees, you will find it hard to believe that you are just 5 minute drive from the beach, except that for the most part you will have an enticing view of the sea, when you are not gazing into the loving eyes of the donkeys.
For the VIP experience, after the walk you will have a traditional Andalucian brunch of local organic virgin olive oil on fresh bread with tomato and a selection of cheeses and fruits, plus a choice of orange juice or mimosas. You will then have an opportunity to experience the life of the volunteers, looking after the donkeys. This will include feeding, cleaning their stables and paddocks, grooming and applying cures. Be sure to wear sturdy footwear and advise us in advance of any food allergies.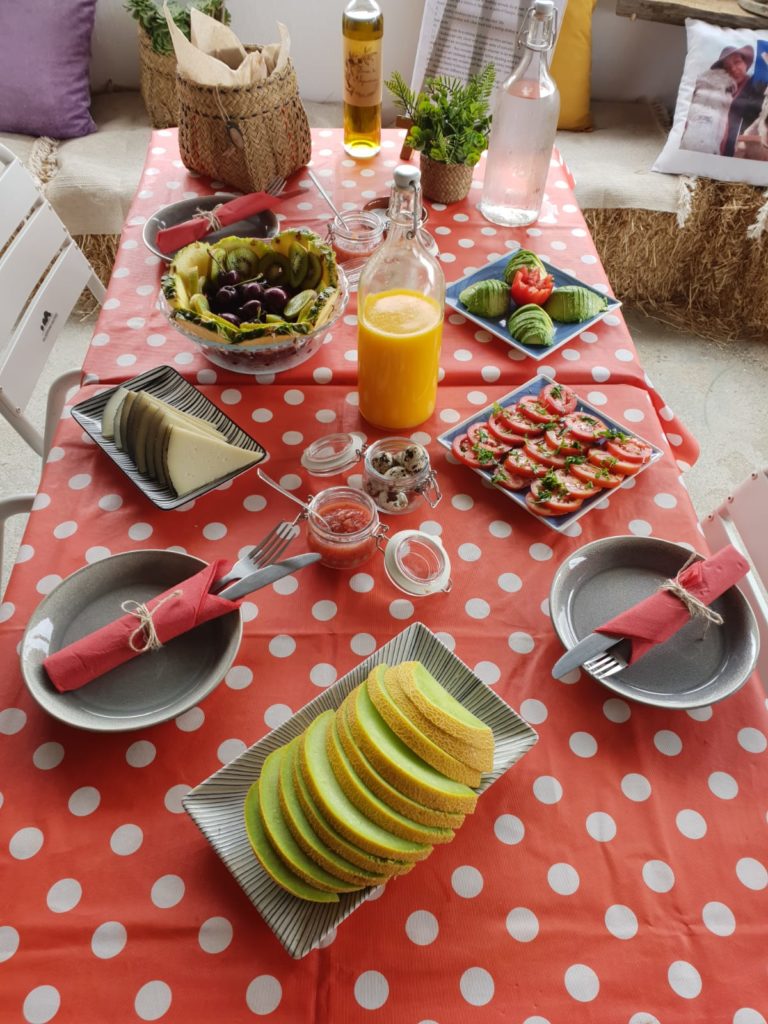 Join us for a peaceful walk in the hills behind La Cala to watch the sun setting and the full moon rising. A new Donkey Walk Experience which we started in July where guests, volunteers and donkeys set off on a walk into the sunset and enjoyed spectacular views as the full moon rose!
Priced at just a 10€ donation per person which includes one drink and a tapas snack (with additional drinks available for a further donation). Meet at Donkey Dreamland at 19.00 hrs (times will vary dependant upon sunset) and set off for a relaxing walk with the donkeys to enjoy the full moon in wonderful surroundings.
Check when there is next a full moon and put the date in your diary and then book to join Donkey Dreamland on another spectacular Full Moon Walk. Remember that we will be walking up hills and along some rocky terrain, so make sure your wear suitable footwear!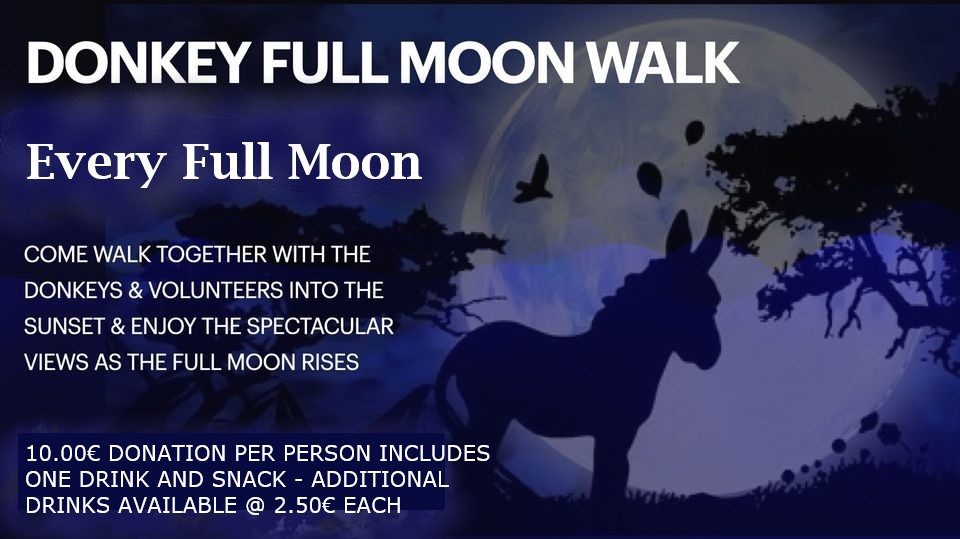 Tours of donkey dreamland
The Standard Donkey Dreamland Tour provides entry to the sanctuary and a 30 minute guided tour* by a Donkey Dreamland guide.

Receive a personal introduction to the donkeys, hear their stories, and learn a few donkey facts along the way!
Plus, often there is the opportunity to interact with the donkeys through petting and or grooming – although this may not be suitable for small children.
After the tour, guests are welcome to spend time enjoying the peace and tranquillity of Donkey Dreamland. A visit usually lasts between 60 and 90 minutes.

*Depending on the group size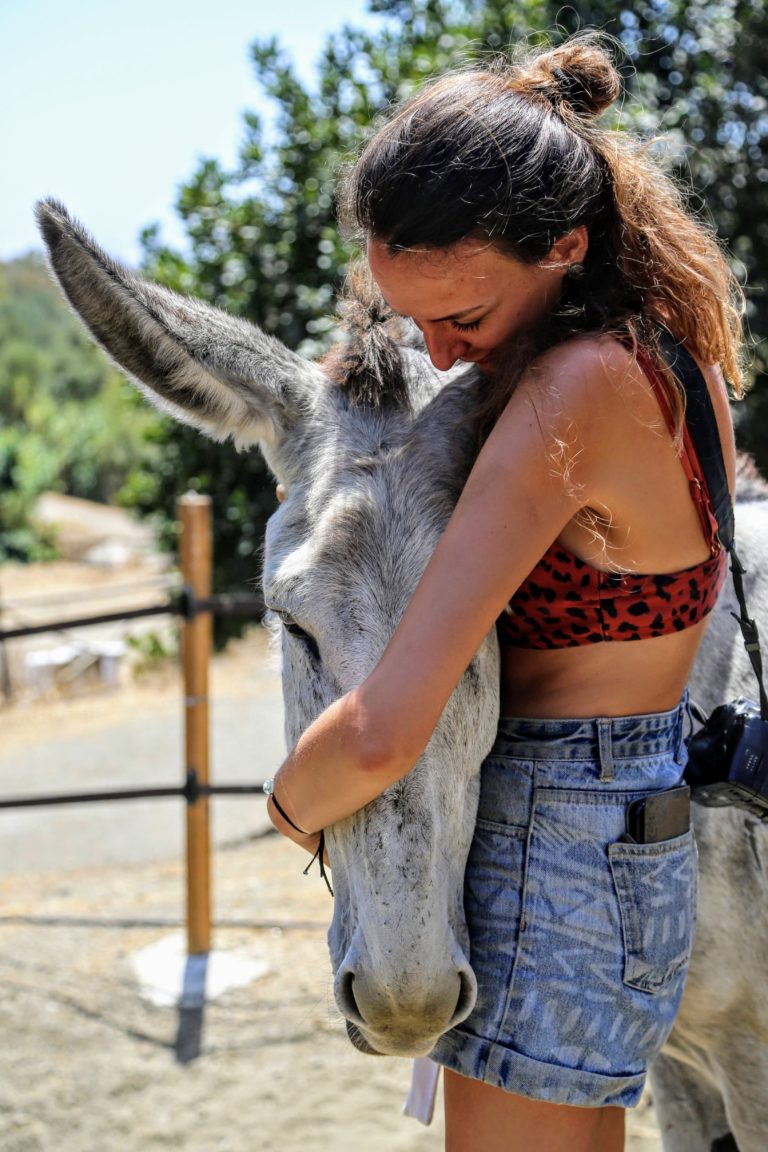 Read the reviews of our donkey walk experiences