Sorry it's been a few days since any updates have been posted. It's been so busy there just hasn't been time. But this latest blog will hopefully get you updated. 
We will cover a number of topics: Firstly an update on Olivia, then an introduction of Carlos and Lucero and then a couple of dates for your diaries.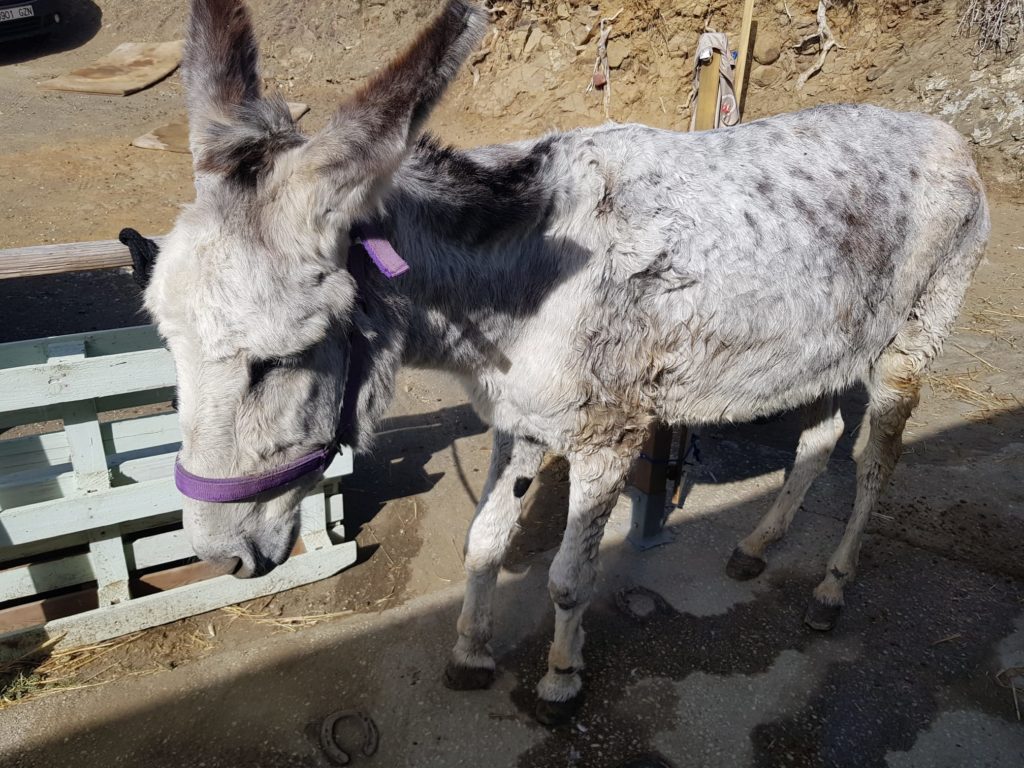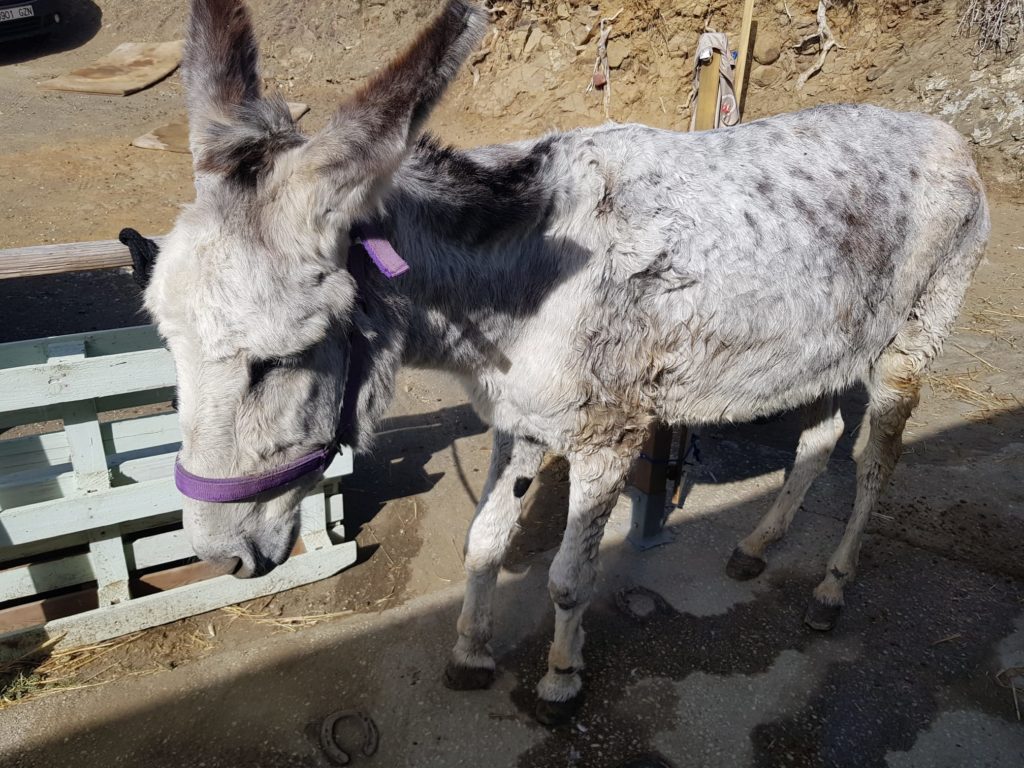 I was going to show some pictures of her in surgery, but after uploading them I decided that for some they might be a bit a little bit too much!
However, the vet was REALLY pleased with how it went and Olivia is now standing up probably 80% of the time and her front legs are now so much straighter. (Prior to surgery, she was standing only about 20% of the time.) She is also walking a bit more, although she still walks with a stiffness, which we hope we diminish with time and exercise.
All in all, everyone is absolutely delighted with how things are progressing. However, the vet came again today to change her bandages and it has been decided the the second stage of surgery will be necessary (it was always expected that would be the case) so she will have that on Friday. It's more invasive than the first surgery,  so we will be keeping everything crosssed that is also as successful as the first stage. We are also ordering a lrage truck full of sand so that she has her own small paddock with a really soft base. This will help her recovery and generally make life easier for her. In summer we will build a shade over it too, so that she is protected from the sun without having to walk any great distance for shade, but also has her own quiet space.
Thank you so much to every single donation to her GoFundMe campaign. We still have a little bit further to go to reach our target, so please do share the link: https://gofund.me/8908c8a5
Carlos becomes the 30th Donkey dreamland rescue
Carlos was found by Marianna, a lovely lady from Germany who spends time in Spain with her family. She was concerned about his terrible living conditions and dealt with the whole rescue process herself meaning that Donkey Dreamland only had to commit to taking him if a solution could be found. Marianna "negotiated" with his owner and dealt with the all of the paperwork which has to be done in order to take a donkey, plus she dealt with the vet to get all of his papers in order. 
As the pictures show, he was certainly living in horrible conditions and if left there for much longer, his health would no doubt have suffered. Fortunately he is young and relatively fit and apart from needing to be castrated, the only issue seems to be his hooves. We have already had them looked at by the farrier and hopefully he will be none the worse for his appalling living conditions.
Lucero - Rescue number 31?
To be fair this cute little rascal is not a rescue. His owners took him on two months ago when he was just two months old. As a result he has had no interaction with other donkeys and whilst the family gave him much love and attention, it got to the stage where his boisterous behave was becoming dangerous to their children.
So Lucero has come to the sanctuary for a bit of training and interaction, with a view that he will return to his family in about six months. The hope is that by then he may well have bonded with another donkey from the sanctuary and they will return to a loving home together, but Lucero will hopefully accept that he is a donkey, because at present he seems to think he is a dog!
He is going to be big. He is already huge for his size and we can tell from his ears and the thickness of his legs that he will be a BIG donkey. So after a few days of "ahs" and cuddles, we will start training him so that he knows right from wrong. But there is no denying – he is absolutely adorable!
march events for your diary
March 19th – After being closed for a few weeks (apart from pre-booked Donkey Walk Experiences) in order to minimise disruption for Olivia, on March 19th we will re-start tours of the sanctuary, subject to pre-booking.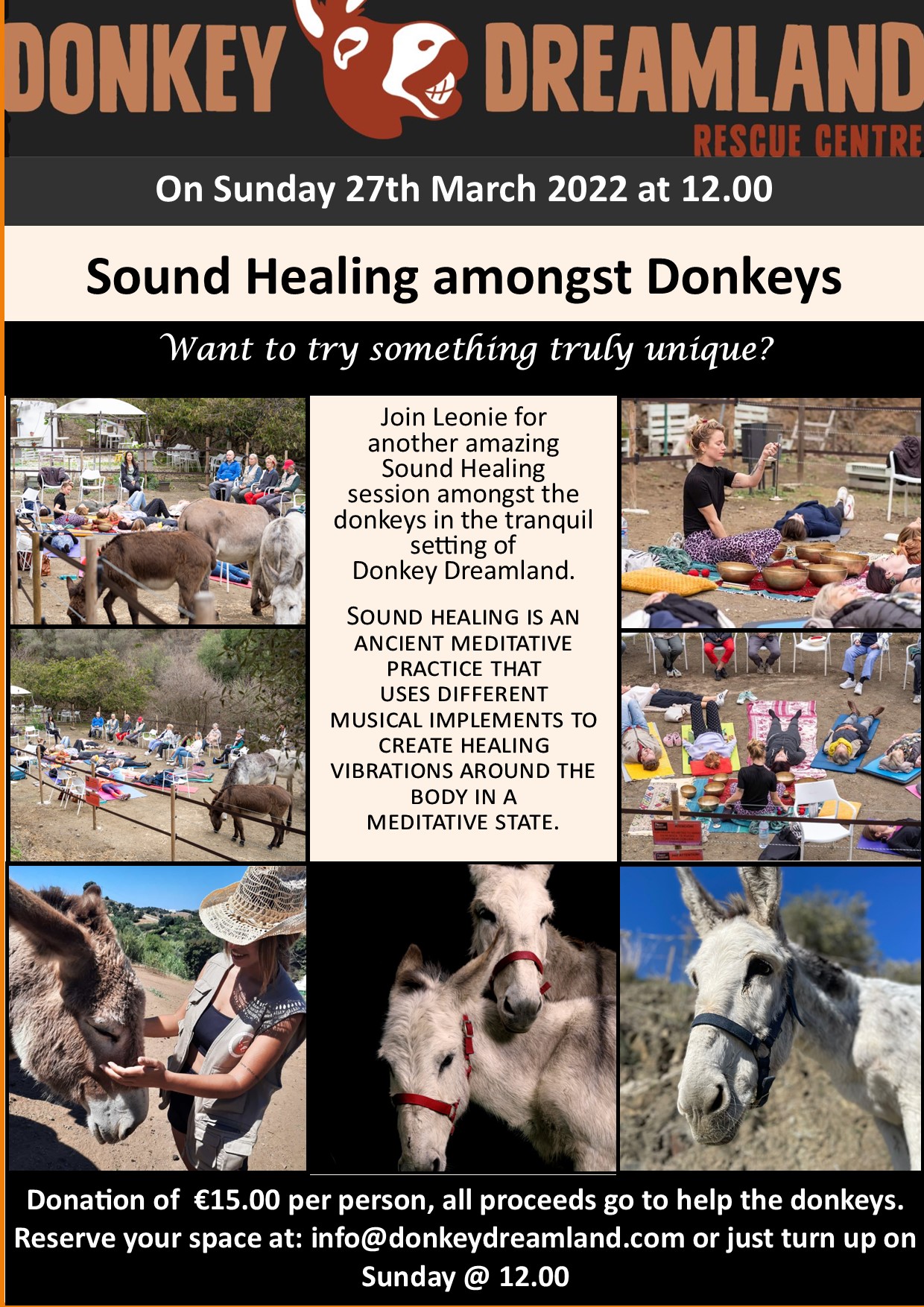 If you are in and around La Cala de Mijas, Costa del Sol on 27th March come and join Leonie for another amazing Sound Healing session amongst the donkeys in the tranquil setting of Donkey Dreamland.
Sound healing is an ancient meditative practice that uses different musical implements to create healing vibrations around the body in a meditative state. It uses aspects of music to improve physical and emotional health and well-being. 
Healing with sound is believed to date back to ancient Greece, when music was used in an attempt to cure mental disorders. Throughout history, music has been used to boost morale in military troops, help people work faster and more productively, and even ward off evil spirits by chanting.
More recently, research has linked music to a number of health benefits, such as boosting immune functions and lowering stress levels.
We asked for a donation of just €15.00 person to participate so not only are you helping yourslef to de-stress and generally feel better, but you are also helping the donkeys too!
Also on Sunday 27th March starting at 14.00 hrs, we are celebrating the fact that it will be Mother's Day in the UK.  Enjoy sandwiches, cakes, scones and tea or Cava and a walk around the sanctuary interacting with the lovely donkeys.
Although the event starts at 14.00 hrs, we are staggering the serving of tea so that the volunteers serving can ensure everyone is looked after in a timely fashion. So time slots have been set at half hour intervals and as such reservations are highly recommended. Your can book here.
Whilst waiting for your tea time, or after you have enjoyed your tea and Cava, you can walk around the sanctuary interacting with the donkeys and enjoy their company. What a truly relaxing way to enjoy Mother's Day.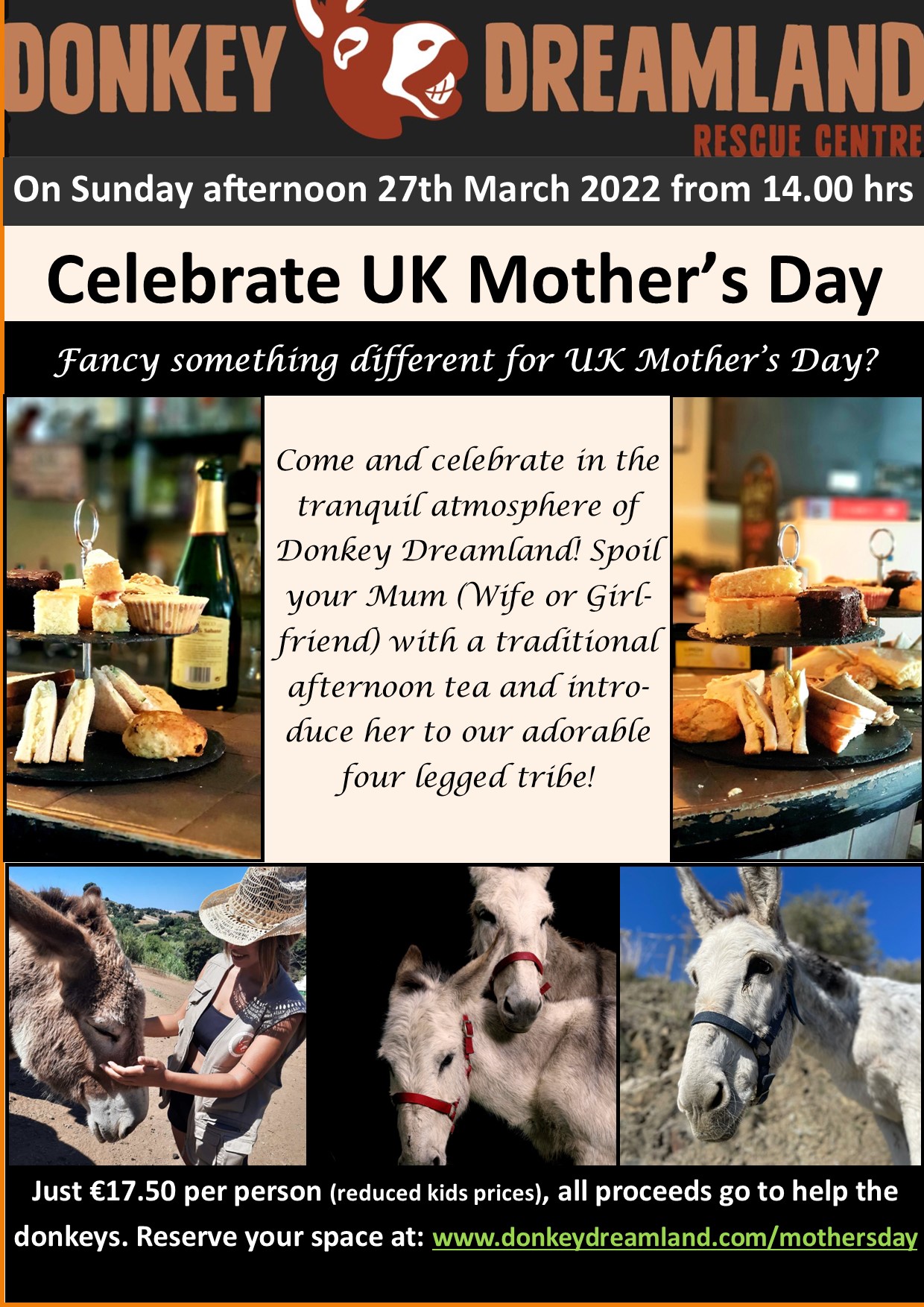 Please share this blog as much as you can and hopefully that will help with donations. If you are able to provide some monthly support from €10 or more, please follow the link below:
Alternatively, for just €1 per month you could become one of our TEAMERS. It may not seem like much, but Teaming is an online tool to raise funds in favour of social causes with micro donations of 1€ a month. The philosophy is based on the idea that 1€ does not have much of an impact if donated alone, but if we join forces, we can make beautiful projects possible. It will take time, but with your support spreading the word, one day we might have sufficient Teamers to help ensure each month's cost are met, leaving Amaya and the volunteers free to focus on the Rescue, Recuerating and Rehoming of more and more donkeys.
Signup to our blog
Get updates sent direct
Subscribe to our blog below and never miss news and events at Donkey Dreamland