Whenever you visit the Donkey Dreamland sanctuary or a Donkey Dreamland Forever Home you will invariably see happy donkeys. The same applies when we post on Facebook, Instagram or our blog. However the reality is that virtually EVERY donkey that Donkey Dreamland has helped has suffered abuse and or neglect.
Sponsorship of individual donkeys is also hugely important to us at Donkey Dreamland as it enables us to plan ahead and helps to provide for the welfare of the donkeys by meeting the monthly cost of feed and bedding, pay for vets and farriers and just as importantly, it helps to pay for our programme to educate and train donkey owners. Sponsorship means you have the comfort and satisfaction of providing for a donkey that is being cared for on your behalf.
Sponsoring a donkey is a guarantee of their having a better life, full of love and compassion,
plus a guarantee that we can continue helping abused and neglected donkeys.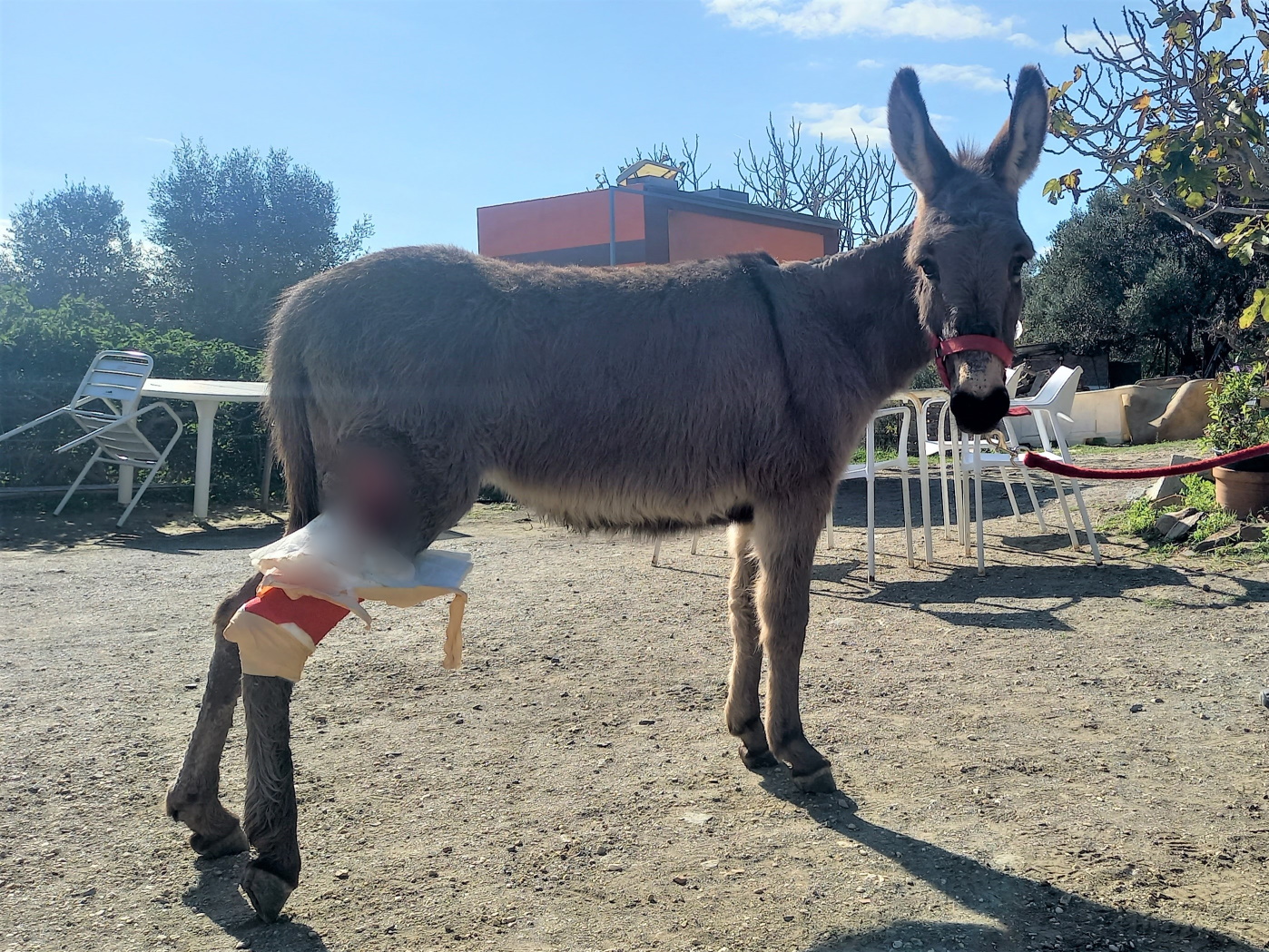 Valiente is our most recent and also our youngest rescue at Donkey Dreamland. He is only one year and two months old.
In January 2023 Valiente came to Donkey Dreamland with severe injuries, wounds and scars on his body. Dogs attacked him while he was tied up, not allowing him to move freely nor able to defend himself. His right back leg is missing a big part of a muscle, which needs daily medical treatment and stretching.
But there is hope! Valiente, which means "brave" in Spanish, lives up to its name. He is a curious young donkey, not afraid of cats and dogs! He walks around the rescue center and enjoys his new freedom and explores the world around him.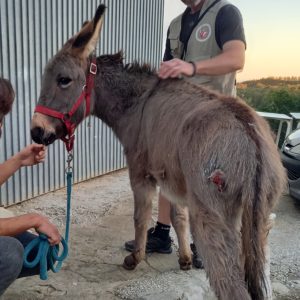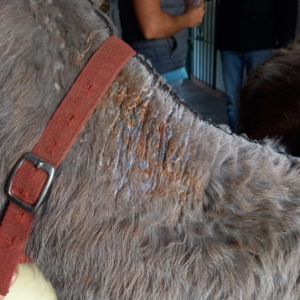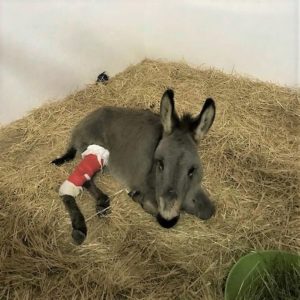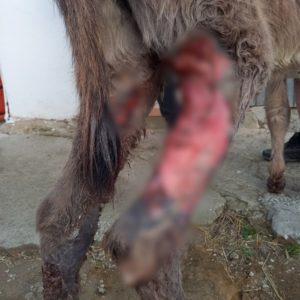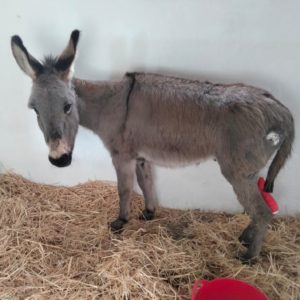 Still, he has a long and hard recovery ahead of him. And we are trying with all we have to help him gain strength and confidence. However, the veterinary costs and the expenses for medical products are expensive and an additional financial challenge for the sanctuary to cope with.
If you like to support Valiente and us in our mission for a best recovery become a sponsor!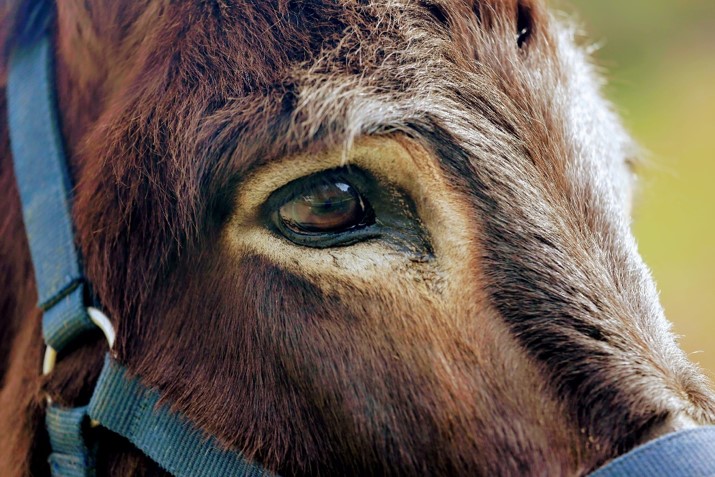 Vida is our third youngest donkey. Vida came to Donkey Dreamland because he spent his days tied tightly to a post which meant he couldn't move. Despite having been with us for quite some time, you can still see the harness marks on his face where he was struggling to break free.
Vida now, despite his size, stands his ground. Currently he spends hours charging round the paddock with his new friend Luz.
Vida may be one of our smaller donkeys, but he certainly thinks he is one of the biggest ….and when he's not playing Vida does love his cuddles from our volunteers and visitors.
If you'd like to sponsor Vida – please click the button below.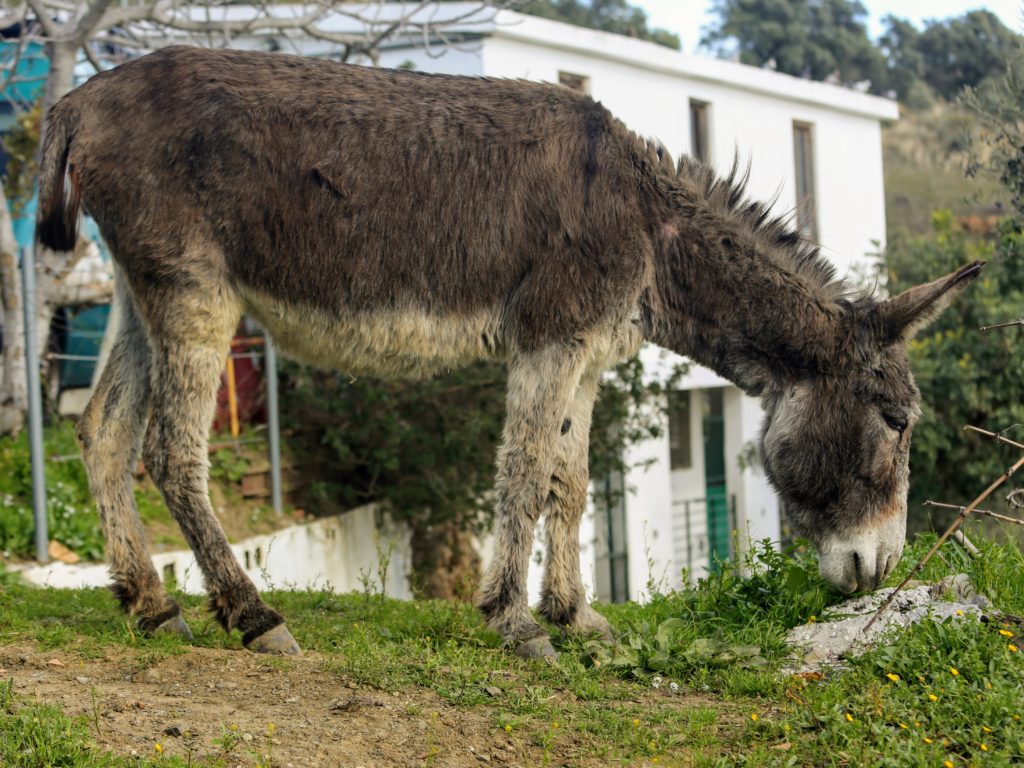 Flor is around nine years old. She is one of thirty seven donkeys that were found in really awful conditions in La Línea in Cadiz. 
When Flor arrived at Donkey Dreamland she was in an extremely bad physical condition and had numerous skin infections that meant we had, initially, to place her into quarantine.
But with constant care, daily treatments and a lot of love, little by little she recovered and she is now able to spend her days amongst the rest of the Donkey Dreamland tribe where she has integrated well due to her lovely character.
If you'd like to sponsor Flor – please click the button below. Thank you!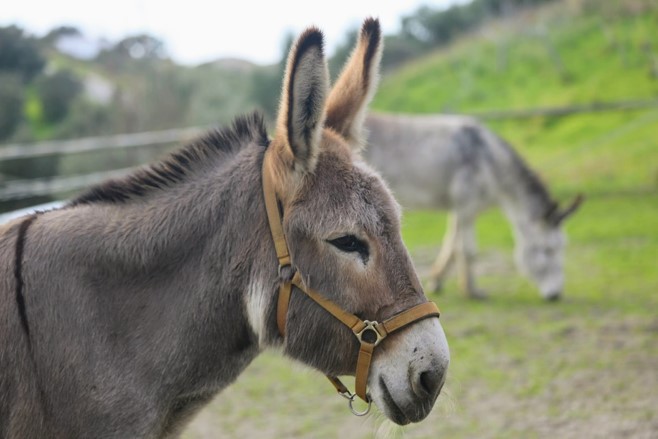 Venus is without doubt a beautiful donkey. She came to Donkey Dreamland as part of a group that we called 'The Wild Bunch', four donkeys that we initially couldn't get near as they appeared to have a huge mistrust of humans.
Venus still has her 'moments' but for those that spend the time, she rewards them with cuddles and a closeness that makes you feel specialNow in a paddock away from the rest of the group she arrived with, which we did to give her confidence, she has matured into an elegant and loving member of the Donkey Dreamland tribe.
If you'd like to sponsor Venus – please click the button below. Thank you!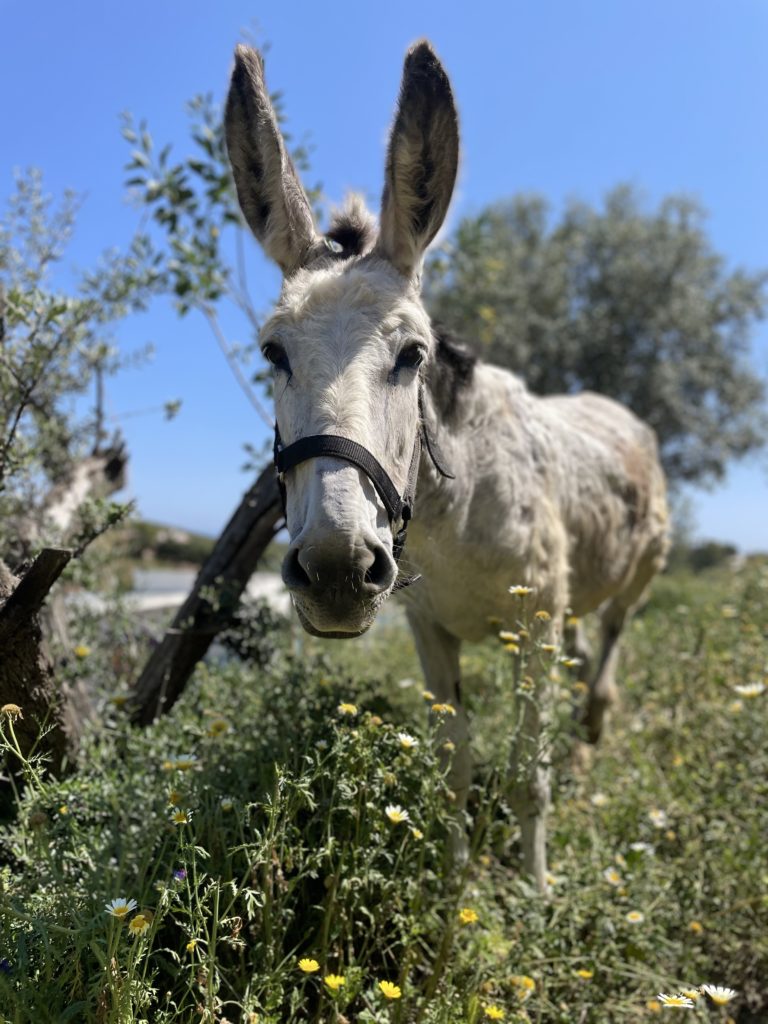 Olivia was unfortunately one of the worst rescue cases we have come across since Donkey Dreamland was formed. We don't know much about her past, but she was found in a field with no grazing, surrounded by dogs.
The dogs don't appear to be wild dogs, but "owned" by the same person that had responsibility for Olivia. The dogs were fed (insufficient) basic dry dog food and that is all Olivia had to eat too.
We know the dogs regularly attacked her (just look at the wounds she had when she was rescued on Tuesday) but we think it is because they were trying to protect their food – basically there just wasn't enough food.
The bigger problem however was with her legs. Her tendons had contracted and she found walking very difficult and painful. Long story short, Olivia has had two lots of surgery kindly funded by donations to a GoFundMe campaign. She needed constant medication though and your sponsorship will be a welcome contribution to the costs.
UPDATE: Unfortunately Olivia passed in August 2022. Her pain became too much so she has gone to her forever home in heaven. We were blessed to help her have an enjoyable final few months.
Please sponsor in memory of Olivia and help us to help other donkeys. Thank you.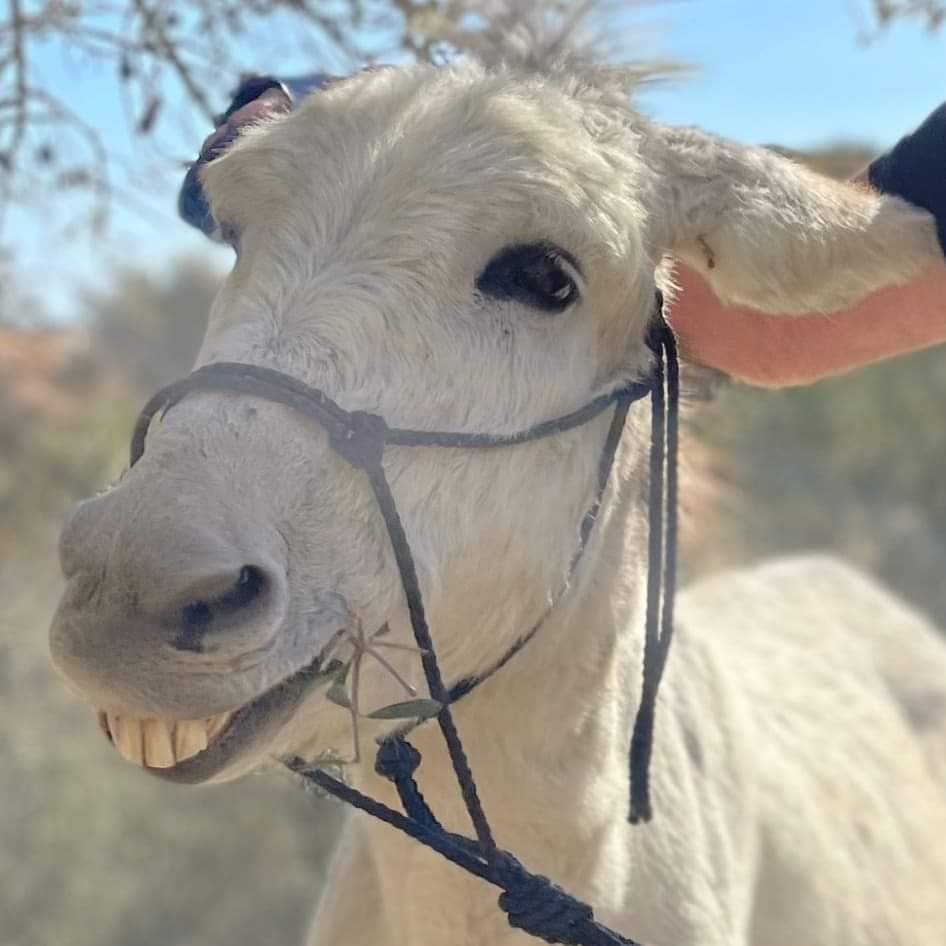 Carmelo was by himself in a finca where the owner would just and see him at the weekends to bring his family and friends and make Carmelo the center of FUN.
He was never in touch with another donkeys execpt for when they wanted to use him to breed and "jump" on a female. That was it.The only interaction he ever had with donkeys was surrounded by humans directing intercourse.
After 20 years of solitude, being all by himself in a finca from Monday to Saturday, he just wanted the weekend to come and he would do anything to please his owner, his only reference.
Carmelo was sent to another finca since his owner could not take care of him anymore. In the new place they decided he was evil and they locked him into a cage. He was there for 6 months until Donkey Dreamland saved him from hell.
It has taken a great deal of time and patience, but now he is an adorable donkey, enjoying peace and kisses from his favourite volunteer, Vicky.
UPDATE: Carmelo has gone to a Forever Home elsewhere in Spain. Unfortunately this home is not open for public visits, but please sponsor Carmelo so that we may continue to help him and other donkeys. Thank you.
If you prefer to make a one off donation by bank transfer, please transfer to ES70 2100 3103 9622 0045 0624
If you prefer to make a one off donation using paypal, our username is: info@donkeydreamland.com