Sponsor our Donkeys from just €10 per month
Donkey Dreamland is currently home to 20 donkeys although the number can go up or down on any day. The aim is to rehome most donkeys to enable more animals to be rescued, brought back to health, and rehabilitated.
On arrival, all donkeys are assessed for health issues including skin, hair, hooves, weight and psychological wellbeing. This is especially important as many donkeys have a mistrust of humans due to abandonment and mental or physical abuse.
At Donkey Dreamland rebuilding trust, building rapport and providing love, play a massive part in their day-to-day work and the gentle interaction with children and adults helps the donkeys to feel safe from harm and enabling them to regain their dignity.
Donkey Dreamland not only provides the perfect environment for rehabilitation, but it also provides the perfect platform to educate all ages about these beautiful and intelligent souls. The ultimate aim is to rehome the donkeys, although there will always be some that cannot be rehomed for various reasons.
These are the donkeys who have so far been lucky enough to be rehomed in their Forever Homes.
Please help us continue in our work by either sponsoring a donkey or make a one off donation below.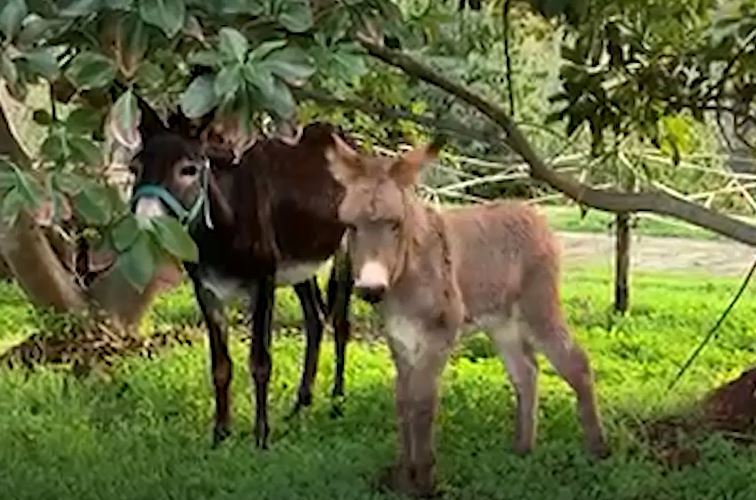 Cielo
Cielo came to Donkey Dreamland with her baby foal Muneco and aunty Nube. They came from a business which was just a breeding centre and as a result they had not been well looked after. Fortunateky the breeder ran out of money and we were able to take three of the donkeys who still needed to find a safe haven.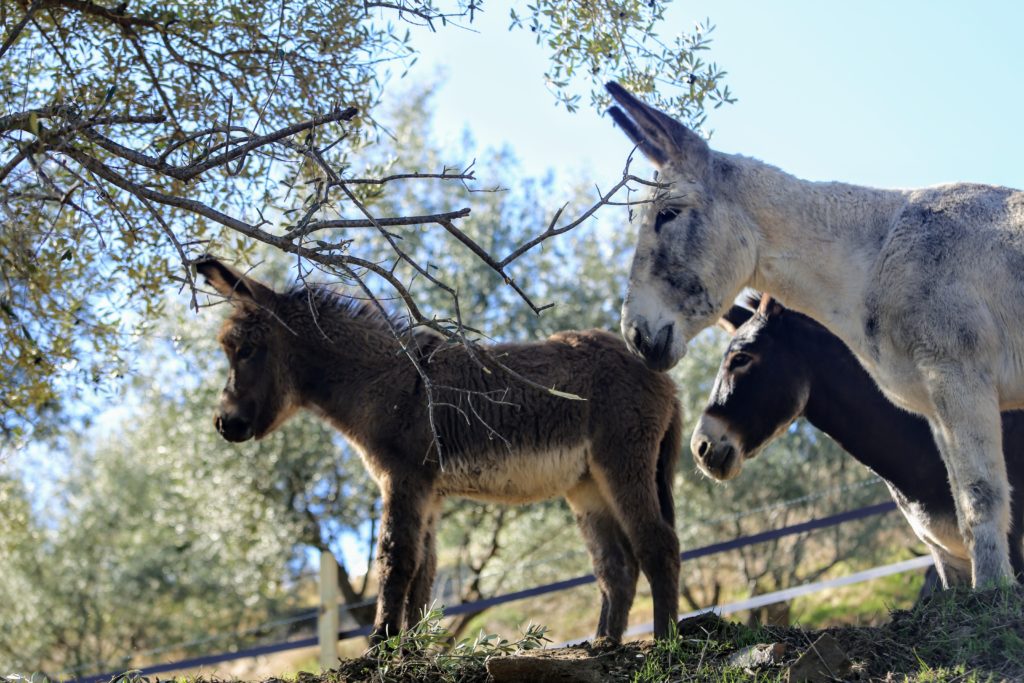 Muneco
Muñeco came to Donkey Dreamland as a baby foal along with his Mother, Cielo, and aunty, Nube. When he arrived he was the fluffiest donkey you've ever seen but his coat is changing now, day by day.
Like all young donkeys, he's very cheeky and just like all children, hassles his mother endlessly to play. Muñeco came from a place that bred donkeys but couldn't keep him due to the pandemic. Now he is enjoying life at Donkey Dreamland.
Muñeco loves nothing more than to run around the sanctuary, regularly escaping from his paddock and to smell (and eat) all of the colourful flowers.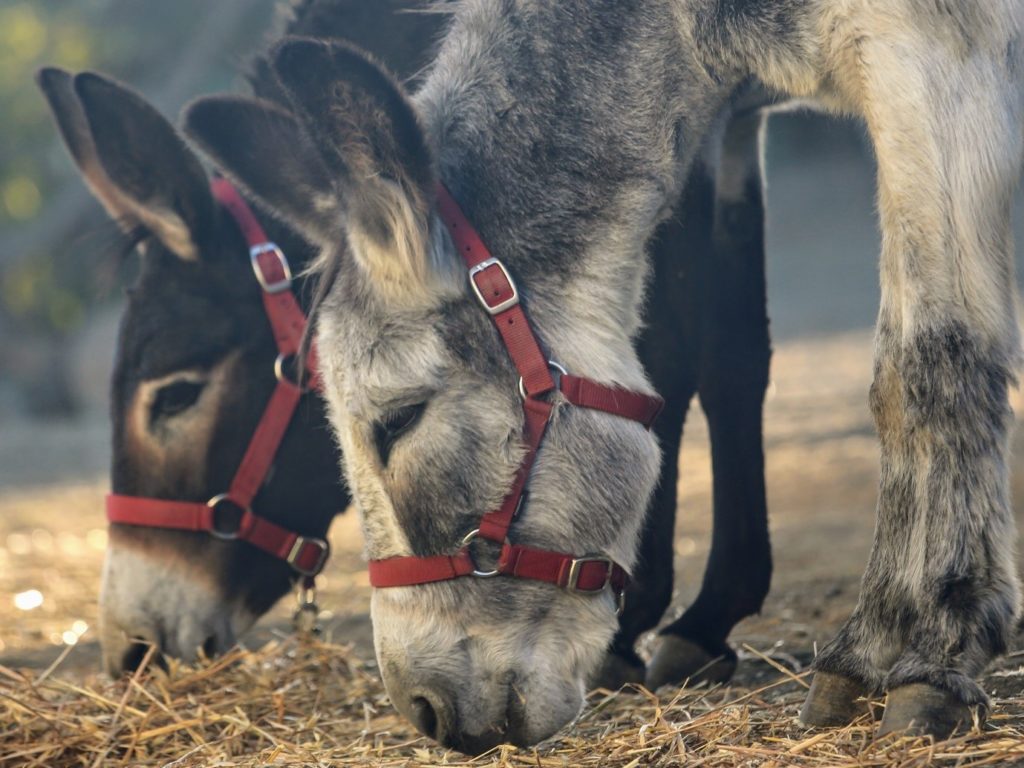 Tony
Tony and Cleo arrived at Donkey Dreamland in February 2020.
Tony didn't have a name when he arrived at the sanctuary, so we gave him this name.
Tony is a miniature donkey, just like Cleo and he has a lot of character!
Small donkeys usually have so much more character because they have to compete with the larger donkeys and prove they are just as brave and tough as the big ones. In addition, Tony's history adds to his character. When you read on, you'll understand why . . . .
Both Tony and Cleo came from a farm school. Tony had only been at the school for around two years. The owners of the farm school rescued him from a bar at three o'clock in the morning where a group of farmers and gypsies were getting him drunk and making fun of him.
We believe this led to him having to defend himself, which has led to his 'boisterous' character and why he can sometimes be aggressive to other donkeys.
However, since being at Donkey Dreamland he has calmed considerably, although he can still be a little aggressive towards other donkeys. When the owners of the farm school rescued poor Tony, they took him home and he became good friends with Cleo, who was the only donkey there at that time. Over time, Tony has fallen in love with Cleo and are likely going to be forever friends and unlikely ever to be separated. They are truly a couple in love.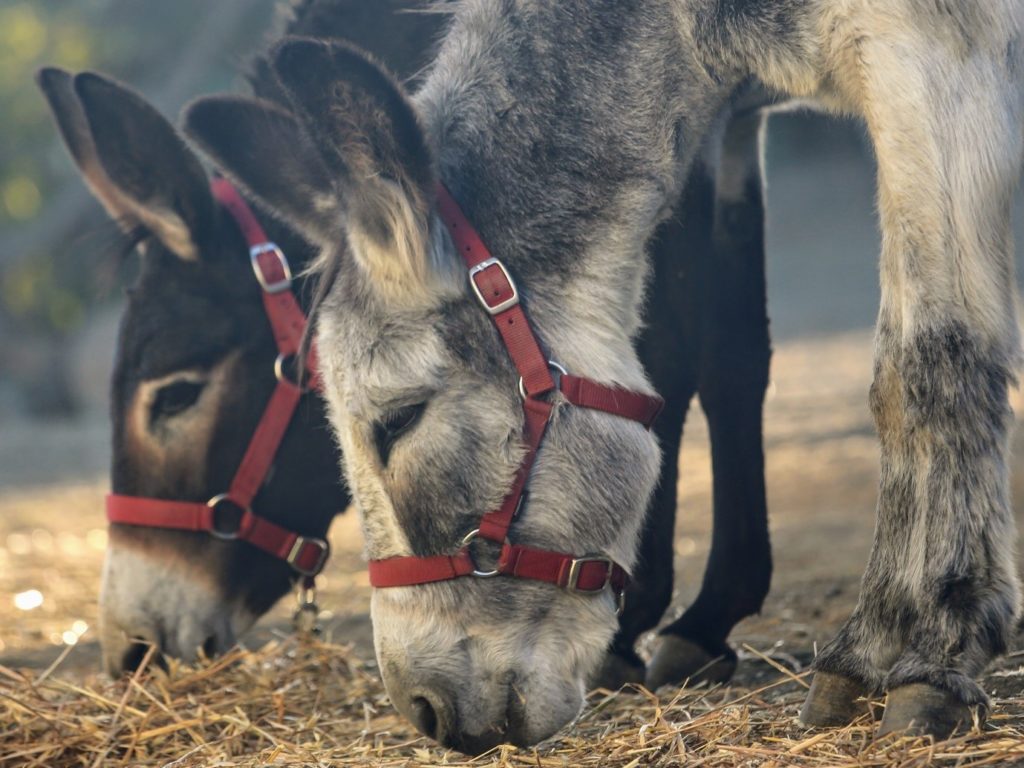 Cleo
Tony and Cleo arrived at Donkey Dreamland in February 2020.
The reason we have them at the sanctuary is that they were both living in a farm school that also had pigs, chickens and goats, all of which were visited by schoolchildren on a regular basis.
Unfortunately, due to the financial crisis caused by the pandemic, they had to close the farm school and they lost their land and began looking for good homes for all their animals.
Cleo was emotionally in good shape, but physically not so good. She was very skinny and had a lot of issues with dermatitis. From the moment she arrived, we have been treating her with Aloe Vera and Coconut oil.
However, this proved not to be enough and we asked the vet to give her an injection to stop the itching as she was always scratching herself which was distressing her.
The good news is that everything we have done has worked and you can now see new hair growing, and the itching has stopped.
We now look on Cleo as the perfect donkey, as she is sweet, calm, and doesn't cause any trouble with the other donkeys.
Now, the only problem that Cleo has to deal with is Tony, as he's always 'on her case'. The reason why can be seen in the story of Tony (above). . . .